Final Cut Pro X Efficient Editing: Smart, quick, and effective video editing with FCP X 10.4.10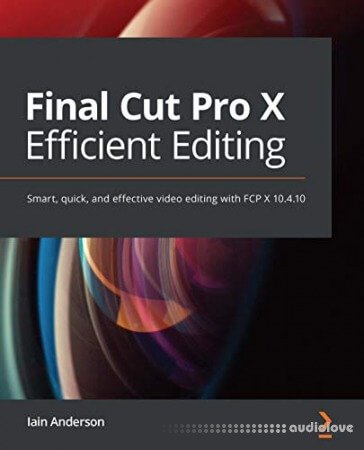 English | ISBN: 9781839213243 | 2020 | 778 pages | EPUB | 52 MB
From basic editing workflows to finishing and exporting your final cut, explore the features of Final Cut Pro X with this practical guide
Final Cut Pro X (FCP X) is Apple's efficient and accessible video editing software for everyone, but it offers powerful features that experienced editors will find useful too. FCP X is the quickest way to transform your raw clips into a finished piece, so if speed is important, make this a key tool in your editing arsenal.
Final Cut Pro X Efficient Editing is a comprehensive best practice guide for all editors. You'll not only learn how to use the features but also find out which ones are the most important and when you should use them. With the help of practical examples, the book will show you how typical footage can be assembled, trimmed, colored, and finessed to produce a finished edit, exploring a variety of techniques. As you progress through the book, you'll follow a standard editing workflow to get the feel of working on real-world projects and answer self-assessment questions to make sure that you're on track.
By the end of this Final Cut Pro X book, you'll be well versed with the key features of this app and have all the tools you need to create impressive edits.
What you will learn
Understand the media import process and delve into media management
Effectively organize your footage so you can find the right shot quickly
Discover how to assemble a rough cut edit
Explore trimming and advanced editing techniques to finesse and finalize the edit
Enhance the edit with color correction, effects, transitions, titles, captions, and much more
Sweeten the audio by controlling volume, using compression, and adding effects
Share the final edited video and archive the job
Who this book is for
The book is for creative professionals, anyone starting out in video editing, and editors switching to Final Cut Pro X from another video editing system. Whether you are a beginner or a professional, you'll find this FCPX book useful. All you need to get started is familiarity with macOS.
Table of Contents
Quick start: An Introduction to FCP X
Before the edit: Production Tips
Bring it in: Importing your Footage
Sort it out: Reviewing and Keywording
Choose your favorites: Selecting, Rating, and Searching
Build the Spine of the Story: Quick Assembly
Cover it up: Connections, Cutaways and Storylines
Neaten the edges: Trimming Techniques
Revisit your choices: Auditions, Replacing and Relinking
Explore a little: Compound Clips and Timeline tricks
Play with light: Color Correction and Grading
Refine and smooth: Video Properties and Effects
Blend and Warp: Video Transitions and Retiming
Boost the signal: Audio Sweetening
A few words: Titles and Generators
You're done: Exporting your edit and finishing up
Key Features
Explore the best ways to use FCP X, from importing and editing to finishing and exporting the final cut
Unlock the power of editing in the magnetic timeline to make huge changes or subtle adjustments easily
Finish your project with pro-level color correction, effects, transitions, audio, titles, and captions
home page
Only registered users can see Download Links. Please
or login.