Truefire Ariane Cap Bass Groove Creation Station [TUTORiAL]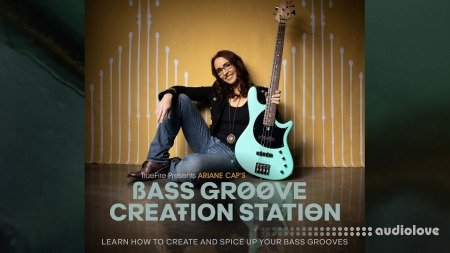 P2P | 06 November 2020 | 3.48 GB
Learn How to Create and Spice Up Your Bass Grooves
As a bass player, you need to know a lot of grooves, across a wide variety of styles and feels. But great bass players also need to know how to create their own grooves from scratch. Ariane Cap's Bass Groove Creation Station presents a variety of simple, creative and very impactful approaches for creating grooves in virtually any style.
"After laying the groundwork for making a bassline groove, and then clarifying the fundamental tonal material, we'll examine how to deepen the pocket and explore a variety of styles. I'll show you several ways to spice up your own grooves and then we'll apply all of these principles and creative approaches using jam tracks.

First, we make it groove by looking at various subdivisions such as straight 16th note grooves and shuffled sixteenth-note grooves. We'll examine the effect of downbeat oriented vs syncopated grooves. Using my groove formula and rhythmic template, we'll also look at ways to analyze various styles such as reggae, soul, and Motown.

I'll show several ways to spice up your grooves using tenths, triads, pentatonics, and chromaticism. We talk about how to play well with the kick drum. And then we'll bring it all home by showing you some special techniques such as hammer-ons and pull-offs."
All of the key examples and performances are transcribed and you'll be able to sync the tab and notation to the video using TrueFire's learning tools. All of the backing tracks are included, and you can also loop or slow down the videos so you can work with the lessons at your own pace.
Includes
40 Video Lessons
26 Charts (.pdf)
24 Jam Tracks (.mp3)
26 Tabs (.gp5 or .ptb)
Runtime: 01:56:16
home page
Only registered users can see Download Links. Please
or login.