50 Songs In The Easy Arrangements: Easy Piano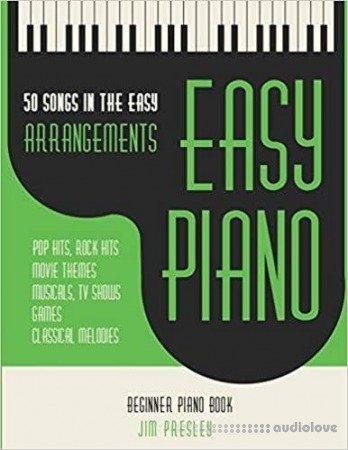 English | 2018 | ISBN: 1720190216 | 143 pages | EPUB | 15 MB
Amazing easy piano sheet book mix of 50 songs for beginners with a huge variety of songs in different genres. You will never get bored playing songs from this piano book because you can find a great song to learn and play according to your mood and piano skills. You will find in this easy piano music book: pop hits, rock hits, movie themes, musicals, tv shows themes, games themes, classical melodies etc.
A link To The Past - Legend of Zelda Hyrule Castle
A Million Dreams - The Greatest Showman
Adele - Hello
Always With Me - Spirited Away
Blood Sweat & Tears - BTS
Bonetrousle - Undertale
Canon in D - Pachelbel
Carol of the Bells
Contrail
Despacito - Luis Fonsi ft. Daddy Yankee
ECHO - Gumi
Evacuating London - The Chronicles of Narnia
Faded - Alan Walker
Forbidden Friendship - How to Train your Dragon
Galway Girl - Ed Sheeran
Game of Thrones
Geometry dash - Clutterfunk
Gravity Falls
Halleluya
He's a Pirate - Pirates of the Caribbean
How Far Ill Go - Moana
I'll Make A Man Out Of You - Mulan - Disney
Inside Out - Main Theme
Journey to Skyhold - Dragon Age Inquisition
Lay Me Down - Sam Smith
LOGAN - Original Motion Picture Soundtrack
Mia and Sebastians Theme - La La Land
My Heart Will Go On - Celine Dion (Titanic)
New Vegas - Fallout
Perfect - Ed Sheeran
Remembering Father - Ninjago Masters of Spinjitszu
Requiem for a Dream
Reys Theme - Star Wars The Force Awakens
Roar - Katy Perry
Snow on Cedars
Sonata K.64 L.58 - Domenico Scarlatti
Star wars
Stay - Rihanna
Taboo - Taboo Original Soundtrack
That Poppy - Adored
The Great British Bake Off
The Legend of Zelda - Main Theme
Training Wheels - Melanie Martinez
Twinkle, Twinkle, Little Star
Undisclosed desires - Muse
Victory Fanfare - Final Fantasy IV
Viva La Vida - Coldplay
What About Us - P!nk
When The Saints Go Marching In - Louis Armstrong
When Will My Life Begin - Tangled
home page
Only registered users can see Download Links. Please
or login.