Output Thermal v1.0.2 [WiN, MacOSX]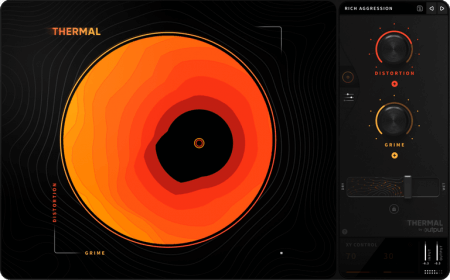 WiN: Team R2R | 05 October 2021 | v1.0.1 | 37.85 MB
WiN: Team Flare | 13 April 2021 | v1.0.2 | 45.8 MB
MAC: PiTcHsHiFteR | 16 November 2020 | v1.0.2 | 121 MB
THERMAL makes it easy to experiment and dial in new distortion sounds. A user-friendly experience is key to controlling the deeply powerful, multi-stage engine.
Key Features
250+ presets for instant playability
A circular XY Control linked to distortion parameters
Multi-stage distortion and effects processing
Mid-Side and time-based width
15+ custom distortion types
9 built-in FX with an additional master compressor and filter
Value readout panel for better understanding of controls
Favoriting feature in Presets menu
Built-in Tool Tips on Advanced page
Team R2R Note:
(v1.0.1)
A witch says,

Have fun with this true RSA keygen.
AAX works in legit ProTools.
Thanks FLARE for the supply!
Team Flare Note:
(v1.0.2)
Output forgot to remove their Portal AAX from their installer
therefore using more space.

They also put the 32 bit AAX in the 64 bit directory and the 64 bit
AAX in the 32 bit directory.

Using our release removes the unnecessary Portal AAX from the
installer and also fixes the AAX directories.

AAX is patched but not tested!

Once again, Big Thanks to Team R2R for providing us their custom
Windows Installer Script!
home page
Only registered users can see Download Links. Please
or login.