Spektro Audio Spektro DRG v1.0 [Max for Live]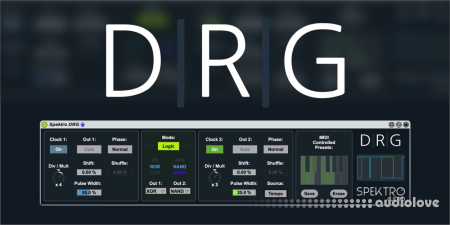 Team Flare | 22 November 2020 | 444 KB
What is DRG?
DRG or Dual Rhythm Generator is a Max for Live device capable of generating clocks and rhythms that can be used with analog synthesizers and drum machines via control voltage. By using a combination of two clock generators and an optional boolean logic operator, DRG can generate anything from simple clock divisions to complex rhythms.
DRG is great for clocking analog sequencers, triggering envelopes, sequencing drum modules and etc.
DRG requires an audio interface with DC-Coupled outputs or an Expert Sleepers ES-3 / ES-4 / ES-40 module.
Clock Generators
The main parts of the DRG device are the two advanced clock generators.
Although the two generators offer almost identical functions, they are independent from each other and can be set to different settings.
You can set the clock rate to either divisions of multiplications of Ableton Live's tempo, change the output mode to either Gate or Trigger, change the pulse width, shift and invert the phase and add shuffle (Trigger mode only). Clock #2 can also be set to use the output of Clock 1 as it's source clock.
Logic Operator
The logic operator works by applying different boolean logic operations (OR, AND, NOR, NAND, XOR and XNOR) to the outputs of the 2 clocks. The results of these operations can be easily visualized by looking at the 6 text LEDs that represent the 6 different operations.
You can select which operation you'd to output by clicking on the dropdown menus below Out 1 and Out 2. By default, Out 1 and 2 are set to CLK 1 and CLK 2, meaning that both outputs will simply output the signal coming out of the 2 clock generators without any logic applied to them (this also means that you can use the logic operator in only one of the outputs).
MIDI Controlled Presets
The MIDI Controlled Presets section let's you store 12 different presets and recall them using MIDI, meaning that you can recall these presets using a MIDI sequence or a MIDI controller.
The 12 preset slots can be accessed / recalled through the MIDI notes C3 to B3 and are represented by the virtual keyboard displayed on this section.
System Requirements
- Ableton Live 9
- Cycling '74 Max 7
- Windows 7 or OSX 10.7
- DC-Coupled Audio Interface or Expert Sleepers ES-3
Contains:
home page
Only registered users can see Download Links. Please
or login.