MixWithTheMasters Deconstructing A Mix #35 Marcella Araica [TUTORiAL]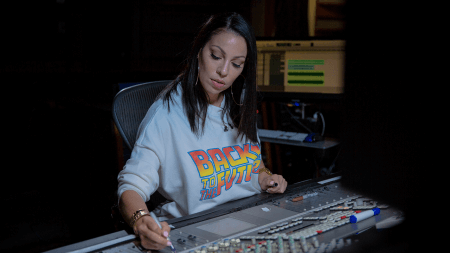 P2P | 20 February 2021 | 706.69 MB
Explore the hybrid mixing workflow of Marcella Araica, mixing engineer of pop hits by Timbaland, P!nk, Madonna, Duran Duran, Britney Spears, and many more! On an SSL 9000J at Platinum Sound Studios in NYC, Marcella opens the 2007 Pro Tools session of 'Bad Girls' by M.I.A., originally mixed fully analog. Using a combination of her favourite plug-ins and hardware, she builds a fresh new mix of the track. Watch her moves every step of the way as she takes you through her parameter settings, creative choices and mixing philosophy.
PART 1
00:14:24
Recording and production, vocal chain, original mix process, tape, hybrid workflow, monitoring, mix buss
PART 2
00:14:31
2007 rough mix, M.I.A. singing style, rough balance, panning, vocal hook treatment, analog compressor  
PART 3
00:17:48
Lead vocal focus, compression, effects, kick and snare, transient shaping, distortion, bit crushing 
PART 4
00:12:40
Percussion EQ and compression, creative panning, stereo image enhancement, subtractive EQ
PART 5
00:08:40
Synth layers, track vs. group processing, shelf EQ, strings compression, 808 bass treatment 
PART 6
00:12:04
Transitional sounds, saturation, distortion, string modulation, parallel EQ, vocal automation, playthrough
home page
Only registered users can see Download Links. Please
or login.