MixWithTheMasters Workshop #9 Shawn Everett [TUTORiAL]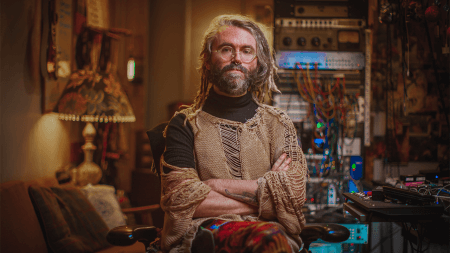 P2P | 20 February 2021 | 829.50 MB
Step inside Shawn Everett's personal studio and watch his creativity run wild! In this novel series, the highly innovative producer takes you on a journey of bold experimentation with audio. He captures some basic sounds, then employs analog and digital signal processing to the extreme. Using tools for shifting pitch, altering speed, adding harmonics, and more, Everett creates an extraordinary melodic soundscape that is a far cry from the source material. He layers numerous tracks, applies effects, shows unconventional ways to use Melodyne, and blends the material with a record by The War On Drugs. Using the Pro Tools multi-track session, Shawn demonstrates how he can "accumulate vibe" and use it to enhance an instrumental arrangement. Ingenuity has no limits!
PART 1
00:21:47
Passion for mangling audio, song excerpt, project overview
PART 2
00:16:18
Recording source material, playback, reverb, saturation, distortion, tape layback, speed, edits, looping, clip gain
PART 3
00:13:05
Octave drops, Melodyne processing, pitch-shift, transposition, refinement, progression
PART 4
00:09:38
Track duplication, layering, changing clip alignment, different pitch-shifting modes_Spa
PART 5
00:11:14
EQ curve matching, accentuating certain notes, stereo widening, CPU resources, printing
PART 6
00:12:35
Capturing Wurlitzer though P.A., layering with original part, strings, level automation
PART 7
00:17:44
Panning, balancing tweaks, enriching the soundscape, crossfading, cutting, effects
PART 8
00:18:58
Time-stretching, muting, arrangement, re-amping, sample addition, accumulating vibe
home page
Only registered users can see Download Links. Please
or login.