Classical Music for the Electric Guitar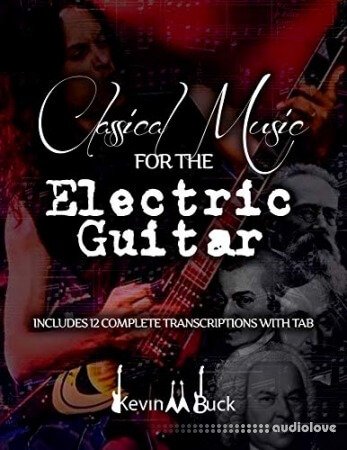 English | 2021 | ISBN-13 : 978-0983534730 | 110 Pages | PDF | 22 MB
"Classical Music for the Electric Guitar" is a guitar sheet music and tablature book of 12 complete, note for note arrangements of Classical Pieces by Bach, Mozart, Korsakov and Paganini. Arranged for 1 to 4 guitars, depending on the piece, it will teach guitarists how to excel at these masterpieces. Iconic modern techniques like sweep picking, alternate picking, string skipping, legato, tapping and hybrid picking are included!
Students will learn how to play Arpeggios, Modes, Major Scales, Minor Scales, Harmonic minor, Melodic minor, Hungarian Minor, Chromatic by working with these masterpieces. Expand your ability and explore the classics today!
Songs included are:
1.Rondo Alla Turca (Mozart)
2.Caprice No. 24 (Paganini)
3.Air on the G String (Bach)
4.Flight of the Bumblebee (Korsakov)
5.Sheep May Safely Graze (Bach)
6.Caprice No. 5 (Paganini)
7.Jesu Joy of Man's Desiring (Bach)
8.The Well Tempered Clavier Book 1 in C Major Prelude (Bach)
9.The Well Tempered Clavier Book 1 in C major Fugue (Bach)
10.Wachet Auf, Ruft Uns Die Stimme (Bach)
11.Bourrée in Em (For Two Electric Guitars) (Bach)
12.Fugue in Gm (Bach)
home page
Only registered users can see Download Links. Please
or login.