Overloud TH-U Premium v1.4.18 CE [WiN]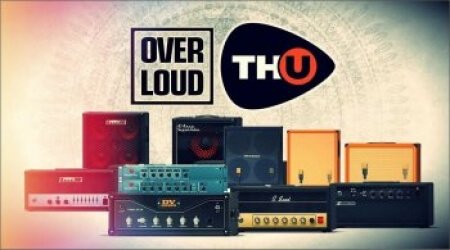 Team V.R | 07 February 2023 | 1.09 GB
TH-U Premium is the colossal new version of Overloud's multi-award winning flagship Guitar Amp Simulation software. With a massive 239 models, TH-U is the world's largest collection in a single package featuring no less than 1000 presets covering all musical styles.
AMP SIMULATION REDEFINED!
239 models! Get the world's largest collection into your computer and mobile device
Includes both the amp modeling and the amp capturing technology
89 guitar amplifiers and 4 bass amplifiers. See full model list...
50 guitar cabinets and 2 bass cabinets
77 pedal and rack effects
18 microphone models, with up to four mics on each cabinet
More than 1000 presets covering all musical styles + FREE PRESETS every month! See them...
Randall®, DVmark®, Brunetti® and THD® authorized models approved by the original manufacturers
Amp Tweak technology, allows you to mod the amplifiers by changing the preamp and poweramp tube models, as well as simulating the action of a variac
Rig Player (with 20 factory rigs), allows you to reproduce rig models created by capturing real setups
One entire preset bank dedicated to bass.
4th generation analog emulation technology, with proprietary nonlinear processing algorithm
3D, gap-less positioning of microphones and room simulation
Advanced cabinet emulations with ReSPiRe 2 technology
Built-in convolver to load external guitar cab IRs
Flexible sound chain with split point for parallel processing
Fully customizable MIDI control for live usage
BREVERB and SpringAge based reverb effects
Full compatibility with TH3 user presets
More than 8000 captured rigs, from the world's largest library!
Mobile version available. See TH-U iOS...
NEW in v1.4 SuperCabinet, revolutionary IR processor, included
INCLUDES THE SUPERCABINET
The TH-U Premium license includes the SuperCabinet, the revolutionary IR processor, based on Overloud's Fluid Convolution Technology, which allows to create cabinet tones in a way that has never been possible before.
Graphically browse the IR libraries
Access one of the largest high resolution IR collection ever created!
Compose your cabinet tone with the unique multiband mode
Be creative: blend multiple IRs and monitor the result
Create huge stereo guitar tones
Make it part of a TH-U preset or...
... export the final IR and load it into your hardware modeler
home page
Only registered users can see Download Links. Please
or login.