Arturia FX Collection 2021.7 CSE Rev2 / 08.06.2021 [WiN, MacOSX]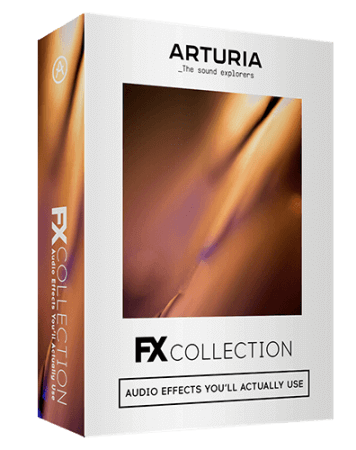 WiN: Team V.R | 24 July 2021 | 1.47 GB
MAC: P2P | 08 June 2021 | 5.05 GB
Treat your sound right.
The result of decades of dedicated research, analysis, and modelling, these 15 superb effects will totally transform the way you record and mix your music. Combining history's finest outboard effects, console components, and pedals with fresh, contemporary features and abilities, FX Collection is an essential tool for the modern producer.
Thanks to our exclusive modelling technologies, we have not only brought these classics to life, but also given them contemporary "must have" features that make them the perfect choice for today's producer. We have also included some totally original Arturia designs, letting you process things creatively in a way that would be simply impossible with vintage hardware.
Team V.R
Bus FORCE v1.0.1
Chorus DIMENSION-D v1.1.1
Chorus JUN-6 v1.1.1
Comp DIODE-609 v1.0.1
Comp FET-76 v1.3.1
Comp TUBE-STA v1.3.1
Comp VCA-65 v1.3.1
Delay ETERNITY v1.3.1
Delay MEMORY-BRIGADE v1.3.1
Delay TAPE-201 v1.3.1
EQ SITRAL-295 v1.0.1
Filter M12 v1.4.1
Filter MINI v1.5.1
Filter SEM v1.4.1
Flanger BL-20 v1.1.1
Phaser BI-TRON v1.1.1
Pre 1973 v1.4.1
Pre TridA v1.4.1
Pre V76 v1.4.1
Rev INTENSITY v1.2.1
Rev PLATE-140 v1.3.1
Rev SPRING-636 v1.2.1
Arturia FX Collection 08.06.2021 MAC (P2P)

Comp_DIODE-609__1_0_0_2663 - NEW!
Bus_FORCE__1_0_0_2663 - NEW!
EQ_SITRAL-295__1_0_0_2663 - NEW!
Comp_FET-76__1_3_0_2663
Comp_TUBE-STA__1_3_0_2663
Comp_VCA-65__1_3_0_2663
Delay_ETERNITY__1_3_0_2663
Delay_MEMORY-BRIGADE__1_3_0_2663
Delay_TAPE-201__1_3_0_2663
Filter_M12__1_4_0_2663
Filter_MINI__1_5_0_2663
Filter_SEM__1_4_0_2663
Flanger_BL-20__1_1_0_2663
Pre_1973__1_4_0_2663
Pre_TridA__1_4_0_2663
Pre_V76__1_4_0_2663
Rev_INTENSITY__1_2_0_2663
Rev_PLATE-140__1_3_0_2663
Rev_SPRING-636__1_2_0_2663
soft/Chorus_DIMENSION-D__1_1_0_2663
Chorus_JUN-6__1_1_0_2663
Phaser_BI-TRON__1_1_0_2663
Arturia FX Collection 2021.1 CSE-V.R Rev2

Comp VCA-65 v1.2.0
Comp FET-76 v1.2.0
Comp TUBE-STA v1.2.0
Delay ETERNITY v1.2.0
Delay MEMORY-BRIGADE v1.2.0
Delay TAPE-201 v1.2.0
Filter M12 v1.3.0
Filter MINI v1.4.0
Filter SEM v1.3.0
Pre 1973 v1.3.0
Pre TridA v1.3.0
Pre V76 v1.3.0
Rev INTENSITY v1.1.0
Rev PLATE-140 v1.2.0
Rev SPRING-636 v1.1.0
Chorus DIMENSION-D v1.0.2
Chorus Jun-6 v1.0.0
Flanger BL-20 v1.0.2
Phaser BI-TRON v1.0.2
Bus FORCE
PARALLEL PROCESSING POWERHOUSE
Bus FORCE is a parallel processor effect designed with one aim: to make anything sound better. With built-in filter, EQ, compression, and saturation modules, and never-before-seen custom routing, this is your new go-to sonic enhancer.
Your secret sonic weapon
Imagine a single effect that can be used on individual tracks, from snare to synth; on your bus channels for beautiful dynamics; on your stereo master for that instant polish you've been looking for.
Imagine being able to incorporate the priceless outboard gear and advanced parallel mixing techniques favored by industry professionals for decades, straight into your DAW.
From delicate tweaks to bold cranks, Bus FORCE is built to ignite the energy of your mix, with ultra-powerful parallel processing that's a breeze to use. Before you use any other plugin, use this one - whatever music you're making.
EQ SITRAL-295
TRANSISTOR TONE SWEETENER
EQ SITRAL-295 is a highly musical equalizer effect based on an elusive transistor broadcast console, known for its warm, characterful sound. Bring out the energy in your EQ with an injection of vintage sweetness and analog attitude in equal measure.
Instant hi-fi sound
Some see the humble EQ as a go-to mix fixer; a repair tool to fill any gaps in your sound.
We see it as a vital ingredient to any sonic recipe, and one that deserves an identity of its own. It's not just about how you use your EQ - a boost here, a cut there - it's about the EQ you choose.
EQ SITRAL-295 is an equalizer designed to make sound-shaping interesting, faithfully modeled after the classic Siemens Sitral modules and reimagined for modern production. From delicate tweaks to bold frequency carving, it's designed to enliven your stems, bus tracks, and final mixes alike with precision, confidence, and charm.
When it comes to EQ, give your production the class it deserves; stunning broadcast-quality presence, immersive stereo depth, and the delicate harmonic crunch that only analog gear can invoke.
Comp DIODE-609
STEREO COMPRESSION ICON
Comp DIODE-609 is a re-engineered software emulation of the legendary Neve 33609 Diode Compressor and Limiter, famed for its warm, smooth, and versatile stereo response. For mixing and mastering alike, reinforce your sound with the spirit of analog dynamics.
The gold standard compressor
Listen to any chart-topping hit, award-winning soundtrack, or seminal album from the past 40 years, and it's likely that you'll be hearing the signature transient wizardry of the Neve 33609.
From Daft Punk to Coldplay, James Newton Howard to Michael Buble, this dual-channel compressor and limiter has been the dynamic backbone of studio recordings for almost half a century.
Its unmistakably creamy response, simple design, and huge sonic flexibility has cemented its reputation as the gold standard - modern music simply wouldn't be the same without it.
From protective mix gluing to maximizing drum bus punchiness, this unique diode-bridge effect stands out from the compressor crowd as a workhorse processor for any audio application - and Comp DIODE-609 brings it into the virtual production realm like never before.
Team V.R Note:
(2021.1 CSE Rev2)
rev. 2 - Arturia quietly updated builds of the Pre & Filter plugins - versions & release notes remained unchanged
MAC Release Note:
(08.06.2021)
based on pitchshifter's work
Team R2R Note:
(v1.0.1)
We update Arturia synths after they update AnalogLab for supporting OB-Xa.

(We think you already know but) Arturia by VR timebombs.
rev.2 - the Microsoft C++ runtime redist updated to v14.29.30040, 'koz the previous version 14.29.30037 turned out buggy
home page
Only registered users can see Download Links. Please
or login.