Samples / SFX (for Film/TV/Game)
Epic Stock Media AAA Game Character Dark Lord [WAV]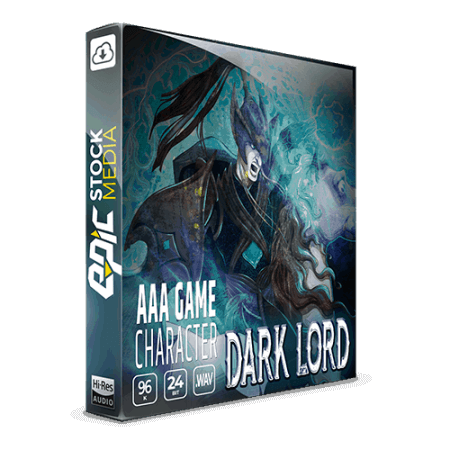 DISCOVER | 16 June 2021 | 345 MB
'AAA Game Character - Dark Lord' by Epic Stock Media is a voiceover sound library with more than 270 immersive, game-ready voiceover samples, vocalizations, battle cries, custom dialogue lines, and everything needed to create compelling cinematic scenes and outstanding gameplay audio experiences.
The Dark Lord's voice texture is raspy, slightly haunting and rich with texture. He is perfect for a villain, ghostly spirit, demon, enemy boss, NPC, or antagonist character in your next game. His voice is ready to go out of the box but is clean enough for further processing. Adding reverb and pitch shifting will get you some crazy depths and dimensions with this excellent library of voices and vocalizations.
All of the recordings are delivered in 96khz/24-Bit WAV format, giving you the best quality for heavy sound editing, pitch shifting and FX processing while keeping a top notch level of clarity and precision. Not only that, 'Dark Lord' also provides multiple versions of the entire library in 44.1k 16Bit WAV and Game Ready MP3 file format, so you never need to convert files. Simply choose the format that best suits your project and design immersive gameplay and cinematic scenes.
This library is not only packed with high-quality voice recordings but includes thought out, cohesive scripted dialogue and vocalizations to help you build dynamic fantasy stories, game trailers, in-game characters, dramatic moments and so much more. Check out the demos! Allow his brutish ways to lead armies of death in your game, penetrate the flesh of his enemies and scourge the realms of fantasy worlds as the king of the underworld.
Product Specifications:
Format: (.WAVs)
010 x Battle Cries And Phrases
006 x Breathing Files - Airy/Angry/Long/Panting/Snarly
008 x Coughing Recordings - Hearty/Explosive/Quick/Snarl/Wheezing
006 x Sad Crying Sounds - Grown/Crying In Hands/Whine/Hearty/Despair
105 x Immersive Character Specific Dialogue Lines - Like Blood Will Flow/Allow Me To End You
013 x Fight Vocals - Block/Charge/Groan/Growl/Grunt/Swing And More
008 x Jumping Vocalizations - Grunt/Hard/Landing/Long/Roll
011 x Laughing Sounds - Breathy/Cackle/Chuckle/Wicked/Smirky
008 x Pain Vocals - Dying/Gut Punch/Ouch/Pain/Sucker Punch
104 x Stock Dialogue Lines - Like Hello/Farewell/Copy That/Can You Help Me
279 x Fantasy Character Voice-Over Audio Files In Total
All In 24-Bit/96k (.WAVs) File Format
Compatible With All DAWs
100% Royalty-Free
Perfect For Fantasy Games/Film/Movie Trailers
home page
Only registered users can see Download Links. Please
or login.