Cupwise CassetteVerb Nebula 4 Library [Nebula]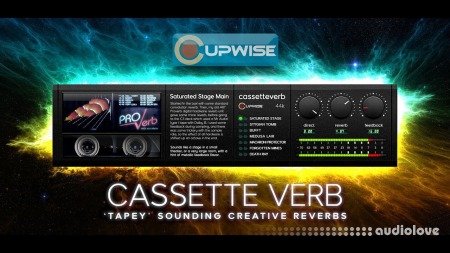 P2P | 17 July 2021 | 24 MB
Various sources of reverb/delay effects were fused with the tone qualities of the cassette format. These are custom made, and each one had cassette tape somewhere in the sampled signal path. 7 unique reverbs were sculpted from various sources and using various software and unusual old hardware like an old tube amp from a radio/record console. Feedback loops with the tape in the path were sometimes used to enhance the effect of the tape, and help bring all of the verb/delay elements together. The main idea here was to try to create 'tapey' sounding reverbs, if that makes any sense.
Each of these effects were sampled in stereo. These effects are dynamic, and do sound different at different signal levels. Originally I created 7 reverbs, but now (5 years later), I've created bonus alternate versions of each one. These new alternate versions are usually subtly different but they provide you some more variety.
Last but not least, this library comes with excellent custom skins by Max Ponomaryov, aka azzimov! (Check out his facebook group here) There are skins for both N3 and N4. Check out the product images to see them!
home page
Only registered users can see Download Links. Please
or login.