KORG miniKORG 700s v1.0.5 / v1.0.1 [WiN, MacOSX]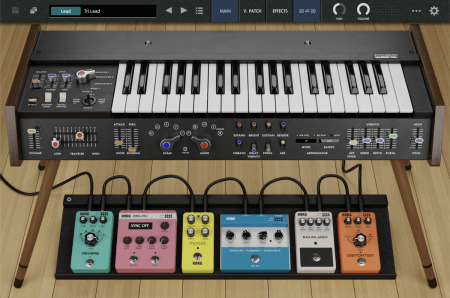 WiN: Team RET | 01 May 2022 | 708.6 MB
MAC: Team R2R | 09 October 2021 | 697.12 MB
The Origin of the KORG Synthesizers is Revived in Software: miniKORG 700S
At the beginning of the 1970s, many compact monophonic synthesizers appeared on the market. However, most of them were used mainly by famous musicians who could afford rare instruments or as research devices in the academic world. KORG wanted to give the average musician the chance to experience this new type of musical instrument. After much trial and error, the company's first mass-produced synthesizer was announced in 1973: the miniKORG 700. With a simple appearance that belied its ability to produce diverse sounds beyond imagination, it charmed many musicians who loved its unique and thick tonal quality.
The miniKORG 700S, the improved version with an additional VCO, was announced the next year, and has now been recreated as a software instrument.
The miniKORG 700S for Mac and Windows is a faithful reproduction of the original analog hardware, with powerful new features only possible in software.
Now the unique sounds and capabilities of this historic KORG synthesizer can be enjoyed on your computer.
A Faithful Recreation of Unique Circuitry
Unique Software Functions
Diverse Preset More Than 150 Programs
A GUI that Prioritizes Realism and Ease of Use
A free demo version is also available.
Team RET Note:
(v1.0.1)
Enjoy this true RSA keygen! No need to install KORG Software Pass.
Team R2R Note:
(v1.0.1)
A witch says,

Use with our KORG Software Pass + KeyGen release.
MORiA Note:
(v1.0.1)
REQ :[iNTEL] + [M1]
Plugin Formats: AU | VST | Standalone
home page
Only registered users can see Download Links. Please
or login.