KORG MonoPoly v2.3.0 / v2.2.0 [WiN, MacOSX]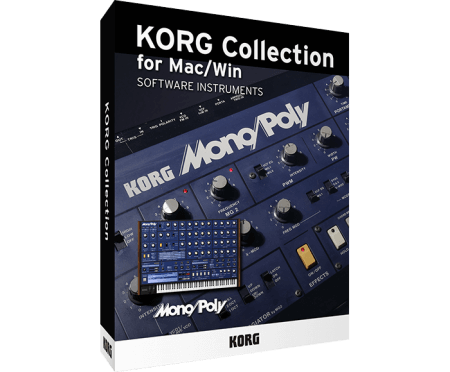 WiN: Team RET | 01 May 2022 | 18.5 MB
MAC: Team R2R | 09 October 2021 | 17.82 MB
The Mono/Poly is Korg's four-VCO monophonic/polyphonic synthesizer that went on sale in 1981 and was considered the culmination of Korg's experience building analog synthesizers. It was released at the same time as the Polysix, and because of their capabilities as well as their price, these two instruments caused a revolution in the synthesizer world. Many musicians acclaimed the Mono/Poly as Korg's best synthesizer yet, with a number of unique characteristics.
It provided four VCOs, each providing adjustable pitch, waveform, octave, and level, which could be stacked together for massive sounds, or cycled through one at a time for constantly shifting timbres. Together with one VCF, one VCA, two EGs, and two MGs it provided a powerful yet accessible programming structure.
Team RET Note:
(v2.2.0)
Enjoy this true RSA keygen! No need to install KORG Software Pass.
Team R2R Note:
(v2.0.2)
* No official KORG Software Pass is needed to install.
* You need TEAM R2R KORG Software Pass v1.0.1 or above.
Team R2R Note:
(v2.2.0)
A witch says,

Use with our KORG Software Pass + KeyGen release.
MORiA Note:
(v2.2.0)
REQ :[iNTEL] + [M1]
MacOS 10.13 High Sierra or higher (latest update)
Plugin Formats: AU | VST | Standalone
home page
Only registered users can see Download Links. Please
or login.