Sound Radix POWAIR v1.1.4 [WiN]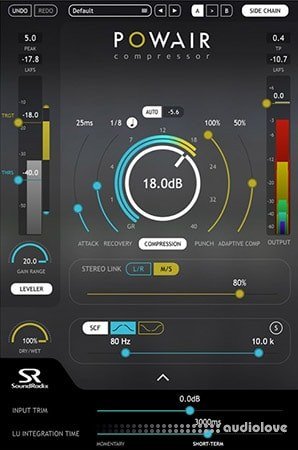 Team R2R | 11 August 2023 | 9.1 MB
POWAIR was designed to be a smarter, more natural sounding compressor. It's a dual-stage loudness leveler / compressor / limiter powered by a novel, proprietary compression engine which provides greater transparency and control than ever before.
The first stage is a K-weighted loudness leveler, perfect for leveling a voice-over or auto-adjusting the level of different pieces of music. In its second compression stage, POWAIR uses an innovative gain detection and reduction engine, capable of fast gain changes with minimal distortion and adaptive response to the source.
The unique Punch feature enables full control over the transients' levels during the attack stage, making it possible to shape the transients' lengths while keeping peak levels under control.
And in an industry first, POWAIR features Adaptive Compression to maintain an average compression action, adding intensity and glue while keeping the natural dynamics of the recording
RADICALLY SMART & NATURAL COMPRESSION
POWAIR's novel, proprietary compression engine allows for powerful dynamics shaping while maintaining the timbre of the source material, even when pushed to extremes. It enables greater control and transparency of the source's perceived loudness and intensity and brings a sense of power to vocals, instruments and mixes.
TOTAL CREATIVE CONTROL
With innovative features such as Punch and Adaptive Compression, POWAIR offers an extra level of control over transients, enabling you to uniquely shape your sound while fully retaining the dynamics of the original performance.
IT'S ABOUT PERCEIVED LOUDNESS
Whether you need to deliver tracks to EBU specifications or control the levels of a dynamic performance, the K-weighted perceived loudness (LKFS) leveler will smoothly ride your tracks to your target level.
Novel, ultra-fast gain detection and reduction compression design
K-weighted loudness auto-leveler
Punch enables precise level control of transients during the attack period independent of attack time
Adaptive Compression enables maintaining average compression for natural performance dynamics
Machine learning-based perceived loudness auto makeup gain compensation
Band-pass and band-reject side-chain filter
External side-chain key input
Mono, stereo and mid/side operation modes with continuously-variable compression link control
ITU-R BS.1770.4-compliant LKFS and true-peak output level meters
Team RET Note:
(v1.1.2)
* No iLok driver installation needed.
* It launches faster and more RAM friendly than original.
Team R2R Note:
(v1.1.1)
HAPPY NEW YEAR!

* No iLok Driver is required to run.
* Our release loads faster and uses less memory than original.

This is a good example to know how the strong iLok protection (and Meta-
Fortress) ruin the software. v1.1.0 was protected by only WrapWarden, then
this minor update v1.1.1 gains stronger protection.

POWAIR VST2 x64 v1.1.0 (R2R) - 4.57MB (All protection has removed)
POWAIR VST2 x64 v1.1.1 (R2R) - 20.2MB (Fusion, MetaFortress)
POWAIR VST2 x64 v1.1.1 (ORIGINAL) - 27.7MB (WrapWarden, Fusion, MetaFortress)

In v1.1.1, thousands of anti tampering checks are inserted. Additional
license check threads are run by protection. Garbage code laids everywhere.

83.5% of this software is DRM. Sounds, very, professional, yes.
home page
Only registered users can see Download Links. Please
or login.