Reason RE Reason Studios Processed Pianos v1.0.1 [WiN]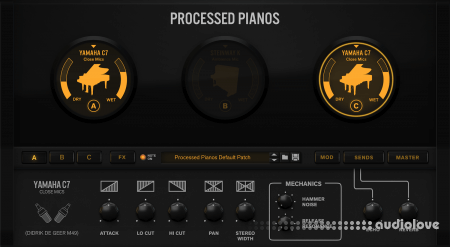 Team DECiBEL | 14 September 2021 | 1.54 GB
Want to create experimental, evolving and exciting piano sounds? If so, Processed Pianos is for you. We've taken our much-loved Reason Pianos and re-shaped it as a Rack Extension instrument. With an amazing new interface and brand-new sound design engine, an entire piano package is available right at your fingertips with three stunning sounding, highly realistic Hypersampled pianos.
Processed Pianos is the perfect piano package for all Reason users who want to explore and play around with new sounds. Let your creativity flow by mixing the Hypersampled pianos in just the way you want, using a custom selection of creative effects. Featuring a microphone blending matrix, powerful processing signal chain and an easy to understand interface, you can easily create piano sounds for film scores, future-pop, classic rock and everything in between.
At the core of Processed Pianos is the intuitive way of blending three different piano sources with just the right amount of processing. Balance the ambience microphone with a touch of distortion, give the Steinway's ribbon mic a tasteful echo effect or manipulate all three piano sources concurrently with an advanced modulation-matrix. From washed-out ambient to aggressively rhythmic or tastefully manipulated, Processed Pianos allows you to create the piano sound that you are looking for.
All three pianos were recorded from multiple angles, using six different sets of microphones giving you three amazing-sounding instruments. The featured pianos were chosen for their classic pop and rock friendly sound; The Steinway D is considered to be the world's finest grand piano, the Yamaha C7 is a classic rock and jazz piano with a distinctive sound, and the Steinway K is a well-balanced upright known for its deep tone.
The three pianos reproduced in the Processed Pianos were recorded in large, hardwood-floored recording rooms-the perfect environment for pop piano recordings. And where other piano libraries leave you with a fixed piano sound that may or may not suit your project, Processed Pianos does just the opposite: these pianos were recorded using multiple microphones, leaving the mixing and shaping of your piano sound to you. You create piano sounds that suit your mix, not the other way around.
Features:
- 3 Hypersampled pianos recorded from industry classics
- Intuitive interface specially made for sound-design and classic piano processing
- Over 50 patches in different genres
- All new super-usable patches inspired by the most used originals
- Microphone levels and piano models spread-out and visualized for intuitive blending
- Unparalleled control of individual piano characters and the overall audio effect
- Mic-balancing, mixer and sound processing features for deep tweaking
You need R2R's Reason release and TEAM R2R Reason Rack Extension Cache Builder

Copy the RackExtension folder to
"%APPDATA%\Propellerhead Software\RackExtensions\"

Copy *.R2RRECACHE file to
"%APPDATA%\Propellerhead Software\R2RRECACHE\"

After you add new RackExtension(s), you need to rebuild the RE cache:
- Just run "RECacheBuilder.exe" from TEAM R2R Reason Rack Extension Cache Builder
- Cache file will be built.
- Done!
home page
Only registered users can see Download Links. Please
or login.