Reason RE PinkNoise Studio Maia v2.3.2 [WiN]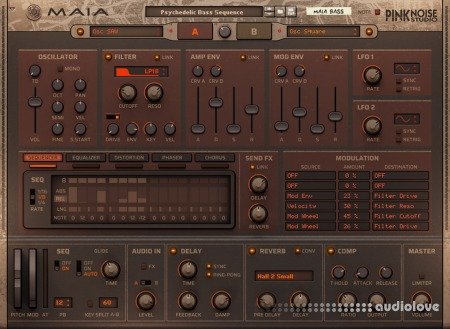 Team DECiBEL | 14 September 2021 | 678.7 MB
Meet Maia, a synthesizer full of soul. It can be an emotional instrument or a furious beast, depending on your mood.
Elegant sounds from organic and timeless sources, Maia's Dual Synth Engine generates iconic synthesizer textures and ethereal melodics through a versatile dual synth, a dual step sequencer and a multi-effect unit.
Powered by a massive two-part sample engine expertly crafted into over 300 useable patches, this unique RE balances functionality with flexibility in a host of features like part specific modulation, a wave-shaper filter, LFO routings and split source signal processing.
Features
- Dual synth architecture with a wide range of sounds from acoustic instruments and synthesizers
- Dual Step Sequencer with advanced options
- Oscillator tables for polytimbral wave sequencing, with random generator and editing tools
- Waveshaper filter
- Modulation Matrix
- FX Modulation Matrix
- Discrete glissando - a new and unique method of musical performance
- Microtuning
- Audio in: to use Maia as a dual FX processor
- Dual CV/Gate out to control other devices using Discrete Glissando- and/or the Step Sequencer
- Factory Bank: over 300 patches in 11 categories
You need R2R's Reason release and TEAM R2R Reason Rack Extension Cache Builder

Copy the RackExtension folder to
"%APPDATA%\Propellerhead Software\RackExtensions\"

Copy *.R2RRECACHE file to
"%APPDATA%\Propellerhead Software\R2RRECACHE\"

After you add new RackExtension(s), you need to rebuild the RE cache:
- Just run "RECacheBuilder.exe" from TEAM R2R Reason Rack Extension Cache Builder
- Cache file will be built.
- Done!
home page
Only registered users can see Download Links. Please
or login.