Jazz Guitar Online How To Play Jazz Guitar In The Style Of Charlie Christian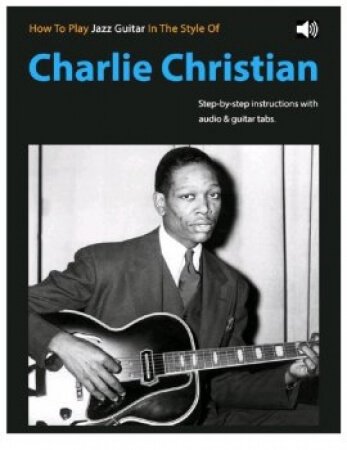 P2P | 23 September 2021 | 73.04 MB
Charlie Christian is one of the most legendary guitarists and the father of jazz guitar. Not only did he help to bring jazz guitar soloing into the modern era, he influenced many of the great players that followed him, including Wes Montgomery, Jim Hall, and Barney Kessel.
Because of his electrifying solos, innovative performances, and groundbreaking concepts, Christian is one of the most popular guitarists to study when learning jazz guitar. In this eBook, you'll break down and learn the concepts behind Christian's solos, dozens of lines in his playing style, and full solos over Christian's favorite jazz standards
By working on the material in this eBook, you'll not only get classic Christian lines under your fingers, you'll understand the concepts behind his playing, so you can apply those ideas to any musical situation.
What Will You Learn?
Essential chord shapes that Christian used to build his soloing lines.
Scale shapes that Christian used to create his most memorable phrases.
Christian's arpeggio fingerings that you can use to outline chords.
Chromatic notes, phrasing, chord subs, and other Christian soloing concepts.
Dozens of soloing lines in the style of Charlie Christian.
Full solos that use Christian's classic lines and phrases over his favorite tunes (Dinah, Rose Room, and Seven Come Eleven).
And more!
What You Get:
Detailed explanation of Charlie's favorite soloing concepts laid out in easy to follow and understand language.
More than 100 musical examples in both tab and notation to make it easy to learn Christian's go to soloing concepts and techniques.
Over 100 audio examples to accompany the tab and notation.
Backing tracks, so you can practice the material in a real life manner.
Tips on how to practice and take each Charlie Christian soloing concept further in the practice room.
Enough concepts and material to keep any guitarist busy for months, or even years.
home page
Only registered users can see Download Links. Please
or login.