UVI Soundbank World Suite 2 v1.0.6 [Synth Presets]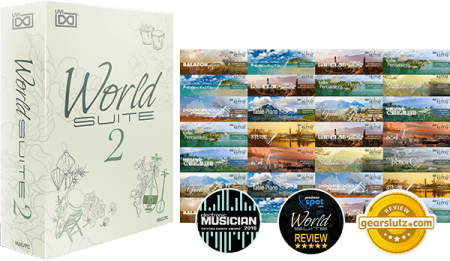 Team DECiBEL | 26 November 2021 | 36.54 GB
With 369 instruments at your fingertips World Suite delivers thousands of years of musical culture from every major continent and ethnic tradition. Explore the sounds of our global heritage and traverse the most secluded corners of the world for inspiration with hundreds of playable instruments and thousands of authentically performed loops and phrases.
World Suite's scope is truly massive, it's one our largest libraries yet including well over 65,000 samples and representing years of planning, recording, editing, coding and design to realize. The vision was simple, we wanted to create a single library that would allow anyone to quickly and easily navigate to any region of the world, browse local instruments and begin playing. Journey to Africa and feel the primal drive of tribal drums and the hypnotizing resonances of the mbira, to Asia and Indonesia for the delicate strings of the koto, mystical shakuhachi flutes and the cerebral gamelan, or to Australia for the didgeridoo and ancient percussive instruments of the aborigine… Wherever you want to go World Suite can be your musical guide with the largest and most complete collection of traditional instruments ever in software form.
WHAT'S NEW
Version 2 adds 48 instruments and over 2,000 loops and phrases including new Georgian vocal phrases (male and female), a new and exclusive Oriental Strings Ensemble with dozens of Arabic, Turkish and Persian multi-sampled phrases recorded in 12 keys with percussions, and 3 new Traveler instruments.
New instruments:
Africa:- Kalimba
Asia:- Erhu, GuQin
Australia:- Didgeridoo
Eastern Europe:- Chonguri, Contrabass Panduri, Duduk, Panduri, Salamuri, Weltmeister Accordion
India:- Dhol, Shahi Baaja
Middle East Mediterranean:- Electric Saz, Kemence, Kloo Mandolin, Oriental Ensemble, Pku, Qanun, Saz, Tar, Turkish Percussions (5)
Occidental:- Alphorn, Cabinet Organ, Cavaco, Dulcimer, Folk Recorders (5), German Accordion, German Psalter, Gothenburg Organ, Portuguese Fado Guitar, Recorders (5), Triple String Zither, Viola Da Gamba
South America:- Bajo Quinto, Charango, Guitarron, Keyboard Recorder, Mexican Vihuela, Peru Flute, Ronroco, UBass
West Indies:- Garrahand, Handpan Ayasa, Handpan Bells (2), Handpan BPSH, Opsilon, Steel Pan, Ukulele
New Loops and Phrases:
Eastern Europe:- Chonguri, Georgian Male, Georgian Female, Panduri, Georgian Traveler
India:- Dhol
Middle East:- Middle East Strings, Tar, Turkish and Arabic Percussions, Middle Eastern 2 Traveler
Occidental:- Cavaco
South America:- Bajo Quinto, Mexican Vihuela, Ronroco, South-American Traveler
INSTRUMENTS FROM AROUND THE GLOBE
- Epic collection of traditional and ethnic sounds
- 65,000+ samples, 369 instruments, 10,000+ loops and phrases
- Intuitive UIs with instrument-specific controls
home page
Only registered users can see Download Links. Please
or login.