UVI Soundbank Program 24 v1.0.2 [Falcon]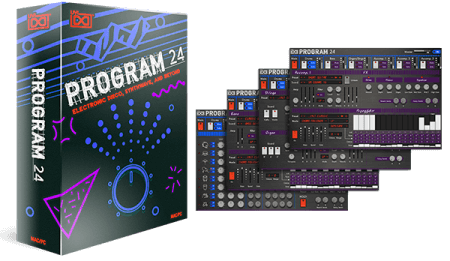 P2P | 29 November 2021 | 5.85 GB
Program 24 brings you the pure sound of '80s Italo Disco inspired by two wild synths nearly lost to time, the Solton Programmer 24 and SM100. The Programmer 24 is an unassuming 3-octave keyboard released in 1985, it contained everything necessary to produce complete arrangements, and real time performance features perfect for backing up the band. It sported a full 8-bit PCM drum section, analog bass and lead arpeggio with analog filters, violin, cello, and 3 flute voices (8', 4', 2'), a featured arranger, chord and pattern sequencers. To top it off, it had individual outputs for 8 drum parts and bass, full MIDI, and a tape interface for storage.
What really caught our attention with this little beast was the sound. Right out of the box it just sounds good, packed with an '80s character we simply adore. The drums are clean and punchy, the bass and arpeggio pack vintage funk, and all the voices work together to create a full and truly classic sound.
The SM100 is another cool analog synth, with DCOs and a phenomenal chorus/ensemble effect. We multisampled every sound allowing you to engage the chorus effect just like you would on the real thing. All-in-all these two fantastic machines deliver tons of flavor and great sounding voices ready to lay down the groove for a new generation.
This release requires R2R Falcon
home page
Only registered users can see Download Links. Please
or login.