Max for Live Push Arrange Mode v2.0 / v2.1b1 [Ableton Live]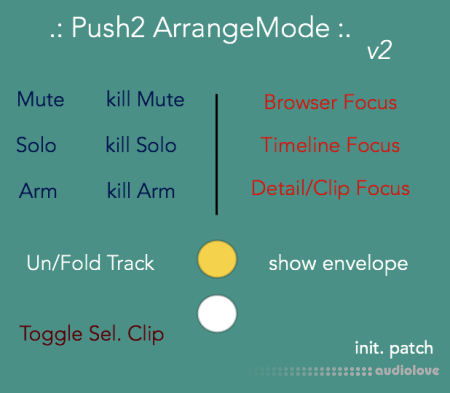 P2P | 12 December 2021 | 801 KB
This device gives your Push its missing Arrangement Mode (plus a few extra bonuses).
It doesn't interfere with other Push's modes, it just adds a new one.
The device mainly works on a "selected track" basis. Ultimately, the main goal of this patch is to use your mouse less, because for a lot of tasks this thing actually is... quite slow.
The main focus of this v2 was to add the most used keystrokes like copy/paste, but also new ones introduced in L10 (and 10.1) like switching Content/Automation modes (A) or reverse audio (R), the new Live 10.1 zooming shortcuts (H, W, Z...), better control over playback modes and many more. And of course it keeps all the good features from v1 that are natively missing in Live.
It also now embeds my BiP (bounce in place) device.
Here's what you can do just from your Push with PAM v2 (this features are also key/midi mappable):
- un/fold selected track(s), or all tracks at once
- zoom vertically and horizontally
- new Live10.1 W, H, Z and X zoom shortcuts
- set/display (cross)fades
- de/activate warp on audio clips
- reverse audio
- divide, cut, copy, paste, duplicate clips, tracks, devices.
- show/hide the detail clip Envelope tab!
- bounce in place
- mute/solo/arm individual tracks, and unmute/unsolo/unarm all tracks at once.
- set and de/activate the Arrangement and Clips loop brackets
- toggle on/off the arrangement « follow playhead» thing
- set and navigate locators
- "continue playing" and "play selection" playback modes
- re-enable automations
- toggle between Content and Automation modes
- de/activate Draw mode
- set the global quantisation value
- focus/close the various panels (Browser, device/clip view)
home page
Only registered users can see Download Links. Please
or login.