Emergence Audio Soprano Textures [KONTAKT]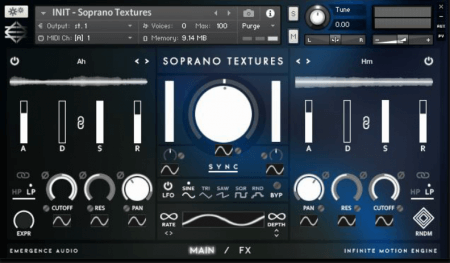 P2P | 02 April 2022 | 167.35 MB
AN UNCOVENTIONAL APPROACH
We brought in singer/songwriter Arwen Fonzen for her beautiful tone to perform 6 vowels. Our intuitive Infinite Motion Engine and Non-Static Sampling process allows you to blend and sculpt ambient vocal soundscapes in new and unique ways that never feel static. Create pads, textures, soundscapes, drones and pulses for a wide range of genres including film, television and game scoring, contemporary era music, neo-classical music, ambient music, drone music, sound design, trailer music, new age/meditation music, and much more.
NON-STATIC SAMPLINGIDEAL FOR SCORING TO PICTURE AND AMBIENT MUSIC
We had our vocalist perform each sampled note with a subtle unpredictability within the same sound source.
- CONVOLUTION REVERB
- DELAY
- CHORUS
- PHASER
- ROTATOR
- STEREO IMAGER
- DISTORTION
- SATURATION
- LOFI
- TAPE SATURATION
Go deeper with our FX section's top-shelf convolution reverbs and attenuverter options that bring next level control.
BEYOND MODULATION
Underneath it all lies a carefully woven cascade of performed vocal timbres developing independently over time.
INFINITE PADS:
Soprano_A Peace Of Serenity_Infinite Pad.nki
Soprano_Ah Drone_Infinite Pad.nki
Soprano_Breathing Ocean_Infinite Pad.nki
Soprano_Disappearing_Infinite Pad.nki
Soprano_Distant Memories_Infinite Pad.nki
Soprano_Distorted Words_Infinite Pad.nki
Soprano_Ee Drone_Infinite Pad.nki
Soprano_Eerie Calm_Infinite Pad.nki
Soprano_Eh Drone_Infinite Pad.nki
Soprano_Ghost In A Drone 2_Infinite Pad.nki
Soprano_Ghost In A Drone_Infinite Pad.nki
Soprano_High Expectations_Infinite Pad.nki
Soprano_Hm Drone_Infinite Pad.nki
Soprano_Mirrored World_Infinite Pad.nki
Soprano_Murmur_Infinite Pad.nki
Soprano_Oh Drone_Infinite Pad.nki
Soprano_0o Drone_Infinite Pad.nki
Soprano_Orbiting The Sun_Infinite Pad.nki
Soprano_Phone Call From Space_Infinite Pad.nki
Soprano_Slow Inhalation_Infinite Pad.nki
Soprano Starting To Think_Infinite Pad.nki
Soprano_Through The Ether_Infinite Pad.nki
Soprano_Unrecognized_Infinite Pad.nki
Soprano_Upper Atmosphere_Infinite Pad.nki
PULSES:
Soprano_Ah In Stereo_Pulses.nki
Soprano_Ee_Delay_Short_Pulses.nki
Soprano_Ah_Pulses.nki
Soprano_Ee In Stereo_Pulses.nki
Soprano_Ee_Delay_Short_Pulses.nki
Soprano_Ee_Pulses.nki
Soprano_Eh In Stereo_Pulses.nki
Soprano_Eh_Pulses.nki
Soprano_End Of The Rainbow_Pulses.nki
Soprano_Hm In Stereo_Pulses.nki
Soprano_Hm_Pulses.nki
Soprano_Jagged Pieces_Pulses.nki
Soprano_Oh In Stereo_Pulses.nki
Soprano_Oh_Ee_Delay_Short_Pulses.nki
Soprano_Oh_Pulses.nki
Soprano_0o In Stereo_Pulses.nki
Soprano_0o_Pulses.nki
Soprano_Rapid Currents_Pulses.nki
Soprano Swift Winds_Pulses.nki
Soprano Times Are Shifting_Pulses.nki
Soprano_To The Right_Pulses.nki
Soprano_Toward The Horizon_Pulses.nki
CORRELATED:
Soprano_Ah_Correlated.nki
Soprano_Ee_Correlated.nki
Soprano_Eh_Correlated.nki
Soprano_Hm_Correlated.nki
Soprano_On_Correlated.nki
Soprano_0o_Correlated.nki
MULTIS:
Soprano_A Dream_Multi.nkm
Soprano_Again and Again_Multi.nkm
Soprano_Alarms From The Universe_Multi.nkm
Soprano_As Far as the Eye Can See_Multi.nkm
Soprano_Clear Skies_Multi.nkm
Soprano_Climbing Nebulas_Multi.nkm
Soprano_Endless Conflagrations_Multi.nkm
Soprano_Ghost in a Drone_Multi.nkm
Soprano_In Flux_Multi.nkm
Soprano_Mesosphere_Multi.nkm
Soprano_Parts and Pieces_Multi.nkm
Soprano_Place No One Goes_Multi.nkm
Soprano_World Left Behind_Multi.nkm
OVERVIEW
- 166 MB of source material
- Infinite Motion Engine™
- Non-Static Sampling™
- 6 Vowels
- 65+ presets
- 100+ parameters to customize your own sound
- 4 curated preset categories
- Convolution reverb with 50+ top-shelf impulse responses
- 10 effects and randomizer
- Evolving ambient vocal soundscapes and pads
- 24bit 48kHz samples
- Midi learn/automation for all controls
home page
Only registered users can see Download Links. Please
or login.