Additional Libraries / SFX (for Film/TV/Game)
Loops De La Creme FOOTSTOMP PACK [KONTAKT]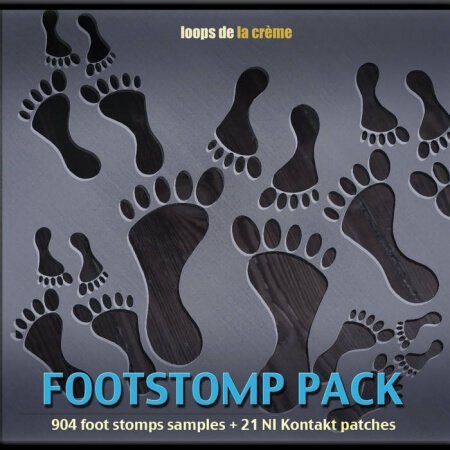 P2P | 08 March 2015 | 90.17 MB
The ultimate foot stomps sample library!
Building upon the concept, sampling and programming technics used for the CLAP PACK DELUXE, this new sample collection is a treasure trove of original, versatile, high quality sounds.
FOOTSTOMP PACK features over 900 samples of real foot stomps and foot steps, and 21 NI Kontakt patches.
Recorded in various studio live rooms and control rooms, as well as on location on music stages, with the help of many people, all kinds of shoes and complimentary accessories, and as always many wonderful microphones : )
-904 samples (WAV, 48kHz, 24bit)
-group stomps, solo stomps, foot steps, additional sounds and FX
-contains both dry samples and samples with natural ambience
-21 NI Kontakt patches
-extended round robin (11 round robin pro key)
-clever programing allows fantastic sounding, realistic results
-17 IR samples (reverb impulse responses)
CONTAINS THE FOLLOWING SAMPLES:
1. POWER STOMPS (179 samples)
Heel stomps, Toughroom, Stereo trench, Stereo power...
2. TIGHT STOMPS (158 samples)
Bootwalk, Hollowstomps, Dwarfstomps, Next Door, clean walk...
3. ROOM STOMPS (130 samples)
Roomboots, group stomps, spring impacts, Stereo slap, Studio cat...
4. DECO (264 samples)
Afrostomps, Bootsomps, Moneystomps, Mutemetal, Rangerstomps, Roomshake, Sheriff Walk, Shell Impacts, Trashbag...
5. STACKED STOMPS (100 samples)
Army Stomps, Dry Stacks, Fat kicks, Treestomps, Wide Punch...
6. FX STOMPS (69 samples)
Big Spring Tank, Deep stomps, Risers, Impacts...
7. VARIOUS STOMPS (17 samples)
solo and group foot stomps samples recorded in a studio control
home page
Only registered users can see Download Links. Please
or login.