Ghosthack Tesseract 2 Hybrid Scoring Tools [MULTiFORMAT]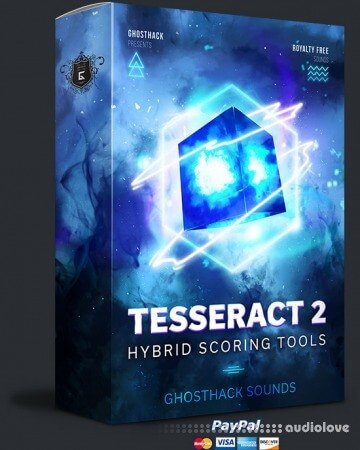 P2P | 16 April 2022 | 21.45 GB
FOR ALL CINEMATIC STYLES - FROM AGGRESSIVE TO UPLIFTING
Tesseract 2 covers a wide range of different cinematic styles: No matter if you're looking for bright atmospheric masterpieces, an uplifting cinematic epos or heavy trailer blockbuster music. But it also includes styles ranging from hybrid energetic electro, 80s inspired synthwave over aggressive Metal-like music influenced by Mick Gordon to dark twisted Horror sound effects and vocals. Tesseract Volume 2 has the right sounds for every media production.
SUITABLE FOR FILMMAKERS AND MUSIC PRODUCERS
We designed Tesseract to be suitable for filmmakers as well as music producers. Filmmakers can use a total of 50 music tracks that are also splitted into their separate parts plus 493 individual sound effects. Music producers can use all these sounds as well: All tonal sounds are key-labeled, all loops are BPM-labeled. The construction kits include separate stems that can be dragged and dropped into your DAW or sampler of choice plus they contain all MIDI files.
27 GB OF CONTENT - 3,162 FILES
This sound library is the biggest cinematic collection we have released yet. It contains all sorts of universal cinematic sounds: Deep atmospheres, roaring braams, lush drones, creepy and horror vocals, hybrid synths, fat basslines, creative instrument melodies including piano and guitar loops, rhytmic percussions, shimmering and sinister tones and blasting trailer drums. Also, you will be equipped with lots of sound effects like whooshes, impacts, downers and risers. On top, you can find even more samples, sounds and full music tracks inside the massive 50 construction kits.
INCLUDES 50 CONSTRUCTION KITS - FULL MUSIC AND SINGLE SOUNDS
A construction kit is composed of a full music track and its separate layers: Each instrument, vocal, drum or sound effect is available as a single WAV file to give you full control over your next masterpiece . Either use one of the 50 premade mixed and mastered tracks or create your own soundtrack with the deconstructed STEMs. Drag and drop your favorite sounds into your DAW, audio or video editing software of choice.
INCLUDES VIDEO TUTORIALS FOR FILMMAKERS AND MUSIC PRODUCERS
Tesseract is suitable for beginners and advanced producers and also filmmakers. We included two video tutorials: One for filmmakers without musical background as well as one for music producers. Both videos explain how to properly use a construction kit in Premiere Pro and FL Studio. We explain what a musical key is. Get creative and start layering sounds of the same key or BPM for endless possibilities of sound and stem combinations.
CONSTRUCTION KITS
10 Uplifting Kits [70 - 130 BPM]
9 Ambient Kits [60 - 95 BPM]
3 Cinematic Kits [75 - 135 BPM]
3 Horror / Dark Kits [65 - 140 BPM]
5 Dramatic Kits [90 - 135 BPM]
2 80s Cinematic Kits [60 - 80 BPM]
4 Sci-Fi Kits [60 - 90 BPM]
3 Hybrid Kits [110 - 135 BPM]
3 Electronic Kits [114 - 130 BPM]
2 Synthwave Kits [90 - 120 BPM]
4 Chillwave Kits [60 - 150 BPM]
1 Aggressive Kit [85 BPM]
1 Cyberpunk Kit [100 BPM]
Including 2,255 STEMs (dry & wet), Vocals and MIDI
HYBRID TOOLS
20 Atmospheres
24 Creepy Vocal Phrases (wet & dry)
65 Zombie Horror Vocals
20 Hybrid Synth Loops [80 - 130 BPM]
20 Ambient Instrument Loops [70 - 90 BPM]
20 Exotic Instruments [80 - 120 BPM]
20 Guitar Loops [75 - 90 BPM]
20 Orchestral Loops [80 - 130 BPM]
20 Piano Loops [60 - 90 BPM]
20 Percussion Loops [70 - 125 BPM]
30 Percussion Hits
20 Trailer Basses [90 - 130 BPM]
20 Trailer Drum Kits [80 - 150 BPM]
with 105 STEMs
19 Braams
40 Trailer Drums & Hits
SOUND FX
102 Broken Drones
20 Various FX
20 Impacts
20 Reverse FX
20 Downshifter
20 Drones
20 Shimmering Tones (wet & dry)
50 Sinister Tones (wet & dry)
20 Signals
20 Whooshes
OTHER
2 Video Tutorials for Beginners
Total Files: 3,162
home page
Only registered users can see Download Links. Please
or login.