inMusic Brands BFD Zildjian Digital Vault Vol.2 [BFD3]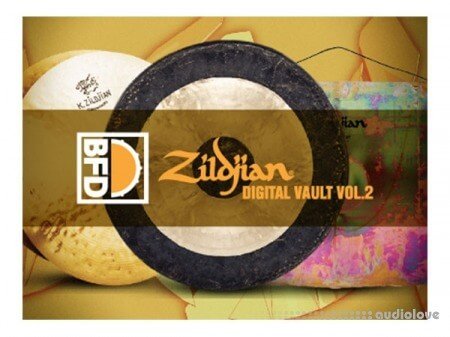 P2P | 29 June 2022 | 8.66 GB
BFD Zildjian Digital Vault Vol.2 is an expansion pack for BFD3, BFD Eco and BFD2 containing meticulously recorded Zildjian cymbals and additional percussion sounds. It provides a wide range of playing styles and articulations.
Perc 18 Classic Orch Bow
Crash 24 Classic Orch
Crash 22 Constantinople
Crash 20 Classic Stick Scrape
Crash 20 Classic Sizzle
Crash 20 Classic Orch Stick
Crash 20 Classic Orch Mallet
Crash 20 Classic Orch ML (Medium Light)
Crash 18 Classic Orch Stick
Crash 18 Classic Orch Pancake
Crash 18 Classic Orch Mallet
Crash 18 Classic Orch MH (Medium Heavy)
Crash 18 Classic Edge Ping
Crash 16 Classic Orch Stick
Crash 16 Classic Orch Mallet
Crash 16 Classic Orch ML
Perc 20 K Constantinople Coin Scrape
Perc 20 K Constantinople Bow
Perc 18 K Constantinople Coin Scrape
Perc 18 K Constantinople Bow
Crash 20 K Symphonic
Crash 20 K Constantinople Stick
Crash 20 K Constantinople Mallet
Crash 20 Constantinople VSM (Very Soft Mallet)
Crash 20 Constantinole ML
Crash 18 K Symphonic Traditional
Crash 18 K Costantinople Vintage MH
Crash 18 K Constantinople Vintage ML
Crash 18 K Constantinople Stick
Crash 18 K Constantinople Special MH
Crash 18 K Constantinople Mallet
Crash 17 K Constantinople Stick
Crash 17 K Constantinople Mallet
Crash 16 K Constantinople Vintage MH
Perc Temple Block 08
Perc Temple Block 07
Perc Temple Block 06
Perc Temple Block 05
Perc Temple Block 04
Perc Temple Block 03
Perc Temple Block 02
Perc Temple Block 01
Perc Small D Bowed Water Crotale
Perc Low C Bowed Water Crotale
Perc Harmonic Stick Slide
Perc Finger Cymbals
Perc Earth Plates Wind Chimes
Perc Earth Plate 06
Perc Earth Plate 05
Perc Earth Plate 04
Perc Earth Plate 03
Perc Earth Plate 02
Perc Earth Plate 01
Perc Cym on Tymp
Perc 40 Gong
Perc 26 WaterGong
Perc 26 Gong
Perc 18 Constantinople Bow on Tymp
Perc 18 Classic Finger Cymbal
Perc 15 Fuyin Gong Water
Perc 15 Fuyin Gong
Perc 10 Tam Tam Water
Perc 10 Tam Tam
Crash Stadium20 Zing
Crash Stadium20 Tap
Crash Stadium20 Port Suck
Crash Stadium20 Ding
Crash Stadium20 Crunch
Crash Stadium20
Crash Stadium18 Zing
Crash Stadium18 Tap
Crash Stadium18 Port Suck
Crash Stadium18 Ding
Crash Stadium18 Crunch
Crash Stadium18
Crash Stadium16 Zing
Crash Stadium16 Tap
Crash Stadium16 Port Suck
Crash Stadium16 Ding
Crash Stadium16 Crunch
Crash Stadium16
Crash GongCym
Crash A Cust China Pair
Crash 40 Gong Stick Coin
Crash 26 Gong Stick Coin
Crash 18 Classic Stick Scrape
Perc F# Bowed Water Crotale
home page
Only registered users can see Download Links. Please
or login.