Truefire Jonathon Long's Boogie's Blues [TUTORiAL]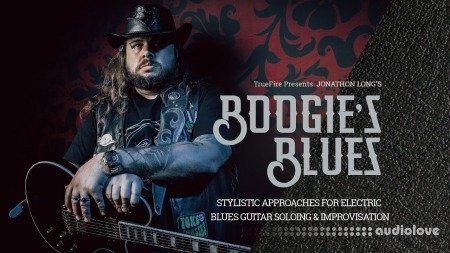 P2P | 12 July | 3.36 GB
Stylistic Approaches for Electric Blues Guitar Soloing & Improvisation
Any musician growing up in Louisiana is heavily influenced by the "gumbo" of musical styles being played all around them - soul, gospel, rock, country, jazz, zydeco, and of course, the blues.
Jonathon "Boogie" Long took those influences to a whole new level by incorporating the characteristic feels and techniques of these distinct musical styles into his masterful blues playing. Jonathon shows you how to do the same in this TrueFire masterclass, Boogie's Blues.
"His evolution from gospel to blues to the whole spectrum of Southern-inspired music is a delight to experience," says OffBeat Magazine. We're thrilled to welcome Jonathon to the family with his first TrueFire course.
"I'll show you how to pull in gospel and soul elements, rapid-fire chicken pickin' lines, modern fusion flavors, and other stylistic approaches to come up with a truly original, and signature sounding blend of your own.
We'll also cover the number system to quickly identify chord positions, essential scale boxes for soloing, legato techniques like tapping and "cheat sweeps", swampy sixteenth note rhythms, classic electric blues licks with big bends and vibrato, and many other moves you can use to make your own blues solos distinctive."
Jonathon will demonstrate all of the stylistic approaches and you'll apply them in a musical context, by soloing over 10 blues grooves, in an assortment of feels, tempos and keys.
You'll get standard notation and tabs for all of the key examples and performance studies. Plus, you'll be able to use TrueFire's learning tools to sync the tab and notation to the video lesson.
You can also loop or slow down the videos so that you can work with the lessons at your own pace. All of the backing tracks are also included to work with on your own.
Grab your guitar, and let's dig in with Jonathon "Boogie" Long!
home page
Only registered users can see Download Links. Please
or login.