Audiority Amps & Pedals Bundle 2022.6 CE [WiN]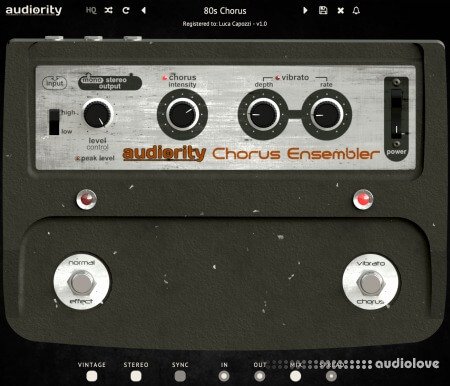 Team V.R | 19 July 2022 | 128 MB
Team V.R | 19 July 2022 | 128 MB
included:
Big Goat v1.2.1 — Electro-Harmonix® Big Muff Pi™ distortion
Blue Face v1.2.1 — Dunlop® Fuzz Face™ fuzz
Chorus Ensembler v1.0 - BOSS® CE-1™ BBD chorus & vibrato
Distortion One v2.0.1 — BOSS® DS-1™ distortion
Dr. Drive v1.1 - free Horizon Devices® Precision Drive™ overdrive
Dr. Phase v1.1 - free MXR® Phase 90™ phaser
Electric Matter v1.1.1 - Electro-Harmonix® Deluxe Electric Mistress™ BBD flanger
Green Reaper v1.1.2 - Ibanez® Tube Screamer™ TS9 overdrive
Heavy Pedal mkII v2.0.4 - BOSS® HM-2™ distortion
Klirrton Grindstein v1.1.1 - Ultimate Death Metal Plugin Suite
L12X v1.3 - free Marshall® Lead 12™ solid state amplifier
Oktaver 82 v1.1.0 - BOSS® OC-2™ classic monophonic octaver
Solidus Randy 250 v1.1.0 - Randall® RG100ES & RH150 solid state amplifiers
Solidus VS8100 v1.2.0 — Marshall® Valvestate™ 8100 solid state amplifier
The Bluesman v1.0.1 - Marshall® Blues Breaker™ overdrive
The Driver v1.0.1 - Marshall® Drivemaster™ overdrive
The Overseer v1.0.1 - Marshall® Guv'nor™ distortion
The Shredder v1.0.1 - Marshall® Shredmaster™ overdrive
home page
Only registered users can see Download Links. Please
or login.