Samples / SFX (for Film/TV/Game)
Epic Stock Media Game Breakables [WAV]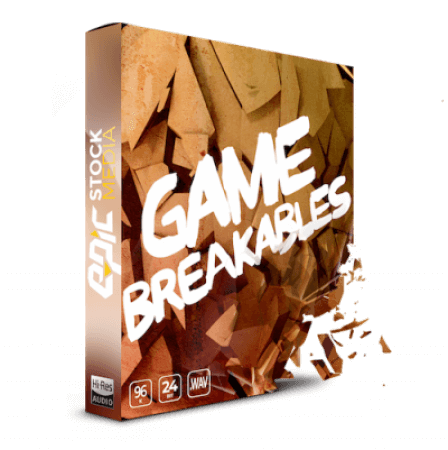 FANTASTiC | 14 November 2022 | 279 MB
Do you need to break something? It's okay, we've got you covered. No damage, danger or clean-up needed! Game Breakables – Sounds of Destruction & Breaking Things includes over
530 designed sound effects
for all those moments where things need to break & shatter. An ear curated selection of highly practical audio assets that will fill out almost any type of game, video or audio project where collecting, smashing, building, demolition and breaking is needed.
Inspired by games such as Angry Birds, Bejeweled, and Temple Run, the Game Breakables – Sounds of Destruction & Breaking Things sound pack won't let you down. Covers an
extensive range of realistic & highly processed sounds
in the form of wood, metal, ice, rock, ceramics, magic as well as other popular destruction sound effects types.
Sounds to Bash, Break, Shatter, Splatter!
Perfect for game developers, sound designers and creative audio producers, Game Breakables is a sound library of pro sound effects that brings you an extrordinary set of crumbling, crinkling, crashing, rumble, breaks and creaking sounds. Game Breakables makes it easy to bring rich interactive sound design to your projects. From stock & standard game breakables like rock smash and pot breaks to creative sonic assets and found sounds discovered off the beaten path (actually in our studio and field recordings). Game Breakables will be sure to supply you with loads of inspiration. This sound pack easily fills any need for destruction-based sounds of any kind. With Game Breakables – Sounds of Destruction & Breaking Things, we are sure your productions will be a smashing hit! (we couldn't resist).
UCS Compliant
All sound effects labeling is UCS compliant and is organized into categories to make it super easy to navigate to the right sounds. The library is categorized into an understandable folder structure: Cartoon Pops, Ceramics, Cooking, Designed Cinematics, Electricity, Fire, Glass, Gore, Ice, Machine, Magic, Metal, Objects, Containers, Household Packaging, Coins, Paper, Plastic, Rocks, UI, Water and Wood.
Product details:
533 sound effects
Game sound effects library
All in 96k 24bit .wav
Includes Soundminer metadata for easy search capability
18 cartoon sound effects
27 glass breaks, shatters, impacts, & crashes
14 ceramic sound effects
41 wood breaks, crashes, friction, impacts
37 designed cinematic sound effects
9 electricity sound effects
11 fire sound effects
81 metal bashes, breaks, slams, impacts
21 cooking, eating, drinking styled SFX
20 gore SFX
14 ice
11 machine
42 magic
95 objects
10 paper
15 plastic
42 rock
15 UI
11 water
All sound effects are youtube friendly & royalty-free
Demo music & demo voiceover not included**
home page
Only registered users can see Download Links. Please
or login.