BLEASS SideKick v1.1.1 Incl Emulator [WiN]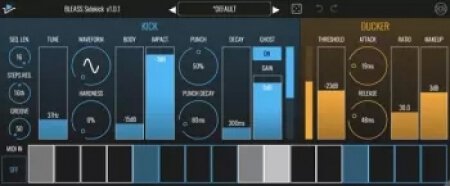 Team R2R | 11 August 2023 | 5.2 MB
BLEASS Sidekick is a combination of a kick drum synth, a step sequencer, and a ducker (aka a sidechain compressor). The result is a plugin that provides a unique way to create exciting rhythmic dynamics within your music.
The kick drum synth uses an analogue-style engine inspired by vintage beatboxes, which allows it to create a wide range of classic analogue kick drum tones with ease. This synth can be triggered by the built-in 16-step sequencer or by an external MIDI input; its sound can be mixed with the audio passing through the plugin, be used to trigger the plugin's ducker stage, or both.
Used without the ducker, BLEASS Sidechain makes it easy to add your own kick parts to loops and other percussive parts.
Bringing in the ducker causes the input signal to reduce in volume whenever the kick synth is triggered. When used on a drum loop this lets you impose your own creativity on the underlying feel and beat of the loop, ducking-out the loop's kick sound and pattern so that you can replace them with a sound and pattern that you have crafted.
Perhaps BLEASS Sidekick's best trick, though, is to use the kick synth and sequencer purely as a trigger for the ducker. This lets you create fascinating and detailed dynamic rhythms within any part or track, whether individual instrument or an entire mix.

A witch says,

Have fun with our full emulation of validate.php and validate_strong.php of their server!

Unlike legit version, our release is offline compatible :)

home page
Only registered users can see Download Links. Please
or login.