Kirk Hunter Studios Kinetic Percussion Motion Engine [KONTAKT]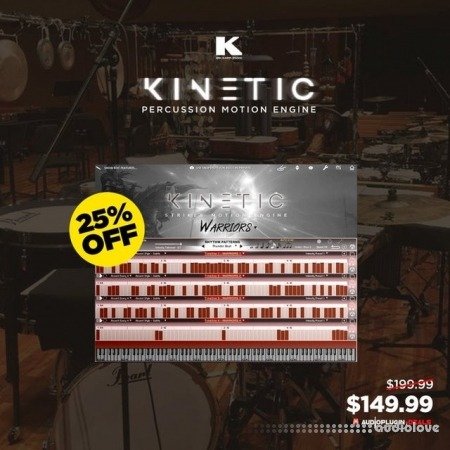 P2P | 14 November 2022 | 12.49 GB
With Kinetic Percussion, you have a vast arsenal of percussion themes and keymaps at your fingertips! Up to 4 timelines where each timeline can have any one of 28 different percussion keymaps. Each timeline contains 64 note or rest events and can be divided into up to 4 "regions". And you can have each timeline play a different pattern whether you hold down a single note or chord!
Choose from 9 different non-pitched themes (or Marimba, Xylophone, Glockenspiel, Tympani "pitched" percussion), 40 fun-to-play rhythm presets and 16 useful velocity presets. And all of these are created to work really well together. And of course, any or all of these patterns can be edited. The possibilities are truly endless!
Assign accents which can be based on every 2, 3, 4 or 6 events. Or....create your own accents for any kind of vibe you want. Additionally, you can set whether the accents are subtle, moderate or dynamic.
Kinetic Percussion contains over 50,000 samples. And each keymap can be edited to move the samples anywhere on the keymap you wish.
The World's Most Flexible Percussion
- 28 Percussion Keymaps in ONE Instrument
- Up to 7 Percussion "Themes" or "Families" in ONE Instruments
- Instantly Create Sophisticated Percussion Cues with A Single Note or Chord
- Added Presets, Multis and Snapshots for Ultimate Expression and Ease-of-Use
- Bring Motion to Percussion With Unparalleled Ease
- Bring Motion to Percussion With Unparalleled Ease
- Dynamic Randomization with Instant Results
- A Percussion Instrument Like No Other
- Epic & Cinematic
- Infinite Results
- Instant Percussion Rhythms
home page
Only registered users can see Download Links. Please
or login.