Dear Reality Exoverb v1.0.0 [WiN]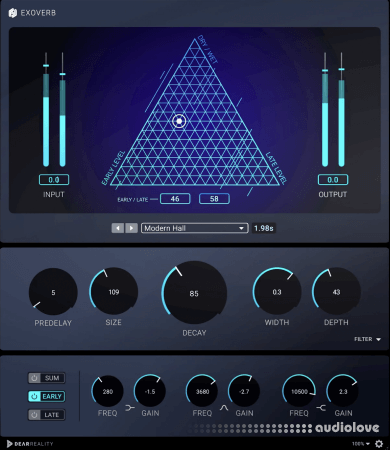 MOCHA | 15 November 2022 | 366 MB
Fuel your stereo productions with an immersive fingerprint and glue your mix with the most natural reverb. EXOVERB offers 50 true-to-life sounding acoustic scenes with unheard three-dimensional depth and width. Achieve cleaned-up stereo mixes with more space for your tracks, relying on EXOVERB's proprietary reverb engine with synthesized spatial multi-IRs.
Main Features
50 acoustic scenes that let your tracks shine
Enhanced spatial perception
EXOVERB provides a unique spatial distance perception based on the fundamentals of spatial hearing. Choose from 50 hand-tailored acoustic scenarios from four categories: Ambiences, Rooms, Halls, and Plates.
Enjoy true-to-life sounding reverbs with a three-dimensional sound stage on speakers and headphones.
Intuitively hit the sweet spot
Triangle pad
EXOVERB's triangle pad lets you easily create the perfect blend of reverb, early reflections, and dry signal.
Define the ratio of the early reflections and the late reverb on the x-axis. The y-axis defines the level of your dry and wet signal.
Go beyond two-dimensional stereo sound
Direct control
EXOVERB follows Dear Reality's easy-to-use approach, providing direct access to commonly used functionalities like Pre-Delay, Size, and Decay.
By default, EXOVERB gives you a greater sense of depth with natural spatial separation. Using the Depth and Width parameter, you can further adjust the front-back space of your mix to increase the acoustic illusion in stereo recordings based on our human distance hearing.
Make it fit your mix
Versatile EQs
EXOVERB offers three straightforward 3-band EQs to provide maximum flexibility to adapt the tonal character to your mix. Apply the separate low-shelf, parametric, and high-shelf filters to the early reflections, reverb, or summed signal to get the right reverb tone for your tracks direct from the plugin.
Key Features
✓ Reverb plugin with enhanced spatial perception (AAX/VST3/AU)
✓ 50 acoustic scenes with three-dimensional depth and width
✓ Dear Reality reverb engine with synthesized multi-IRs
✓ Intuitive triangle pad and total control adjusting the acoustic scene
✓ Separate EQs for early reflections, decay, and reverb sum
✓ Resizable graphical interface
REQUIREMENTS
Windows 10 - 11
Intel-compatible CPU with SSE2 instruction set (minimum 2 GHz recommended)
home page
Only registered users can see Download Links. Please
or login.