Truefire Eric Haugen's Guitar Zen: Pentatonic Double-Stops [TUTORiAL]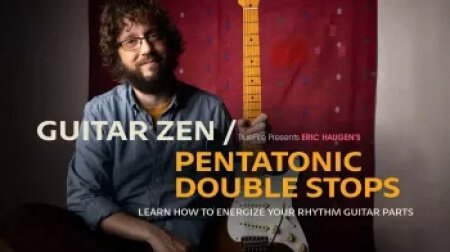 P2P | 18 November 2022 | 2.44 GB
Double-Stop Firepower for Rhythm Guitar
Most blues and rock players learn how to play a "double stop" fairly early on (remember learning that Johnny B Goode riff back in the day?). Most players also tend to use double-stops primarily as a lead guitar embellishment. Yet, learning how to harness the firepower of double stops with your rhythm playing is what will take your chops to a whole new world.
Eric Haugen's Pentatonic Double-Stops edition of Guitar Zen is your fast-track passport to that new world. Jimi Hendrix, Stevie Ray Vaughn, Eddie Van Halen, Mark Knopfler, Joe Satriani, Steve Vai and John Mayer are just a few of the artists highly respected for their masterful use of double-stops when playing rhythm guitar.
"I'll show you five simple CAGED shapes and five pentatonic shapes and walk you through ALL of the possibilities by pointing out every "double-stop-ortunity" – major or minor, jazzy or bluesy, folky or groovy. We'll practice and play every double-stop move and fill together using backing tracks for musical context.
From the very first set of lessons, you'll grasp how easy it is to instantly visualize and then play tasty double-stop phrases and fills using the scales and shapes you already know.
Play your way through the entire course, and you'll be able to play an unlimited variety of double-stop fills for any chord, in any key, anywhere on the neck."
You'll have TrueFire's intuitive learning tools at your finger tips to personalize your workspace and learn at your own pace.
Tab and notation is synced to the video lessons. You'll be able to loop, slow down, or speed up any section of a lesson. Printable tab charts and standard notation are also included, along with Guitar Pro files and practice jam tracks.
Grab your guitar, and let's power up our rhythm chops with Eric Haugen!
home page
Only registered users can see Download Links. Please
or login.