Plektron Guitar Amp 3 v3.5.0 Regged [WiN]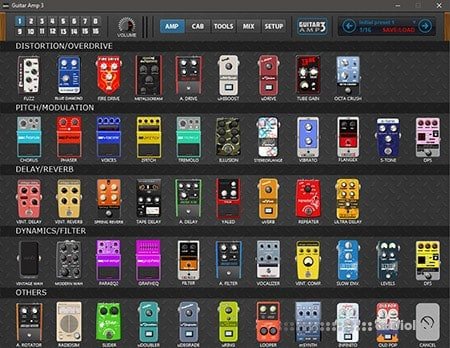 Team R2R | 03 Jun 2017 | 141 MB
Guitar amp 3 offers wide set of amplifiers and effects. Using it is simple and intuitive, the new graphics and layout of the components have been carefully designed to have a good workflow to glean your sound immediately. If it is the right sound, you can save your own set! Plug your guitar to the audio board and start Guitar Amp 3 in stand alone mode, or just record in your favourite VST host with the plug-in version.
Guitar Amp 3 Features
- 5 stomp effect slots
- 15 original amplifiers and cabinets
- Over 40 stomp effects
- Over 200 presets
- Easy microphone simulation
- Full midi learn knobs
- Standalone and VST plugin
- Audio to midi converter
- Advanced mix section
- Analogue chromatic tuner
- Play and record wave files
- Internal automation oscs
- HD audio engine
- ...and many more!
Guitar Amp 3 Effects
AMPS:
Hiwatt, Hiwatt MK2, Combovox, British, British two, Audiosonic, Bluesman, Epic, Splitamp, Phonix, Neusonor, Route amp, Plek60, Bassvox
MODULATIONS:
Chorus, Vibrato, Tremolo, Phaser, S-tone, Flangex, Stereoflange
FILTERS:
Vocalizer, Filter, Paraeq2, Grapheq, Vintage wah, Modern wah, Analogue filter, uHiboost
AMBIENCES:
Vintage delay, Vintage reverb, uVerb, Yaled, Spring reverb, Tape delay, Ultra Delay
OD/DIST:
Fuzz, Blue diamond, Fire drive, Metal scream, uDrive, Analogue drive, Octa Crush
DIGITAL EFFECTS:
Looper, Repeater, mSynth, DPS, DFS
PITCH SHIFTERS:
Voices, 2pitch, Illusion, Slider
DEGRADERS:
uDegrader, uRing, Radiosim
DINAMICS:
Tube gain, Vintage compressor, Slow env, Levels
OTHERS:
uDoubler, Analogue rotator, Infinito, Old-Pop
TOOLS:
Decks recorder/playback, Chromatic tuner, Multi oscs machine
home page
Only registered users can see Download Links. Please
or login.