Fixation Studios GMaudio Ducker 1.5 [Max for Live]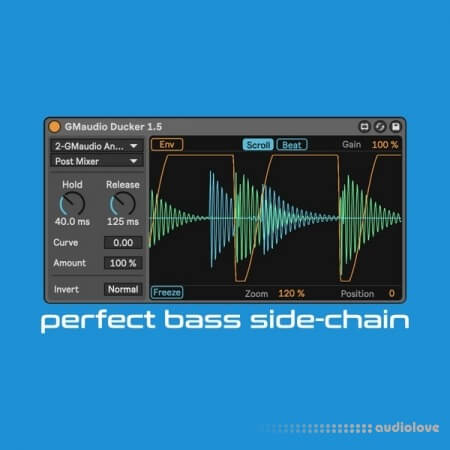 P2P | 09 March 2023 | 268 KB
GMaudio Ducker is the only sample accurate side-chain tool for Ableton Live. Designed for ease of use and ultimate transparency, It's the last ducking tool you will ever use!
This device uses Transient Detection to trigger an ideal envelope for Bass volume control, that is always on time and 100% accurate.
- The Attack curve is fixed and designed to avoid any pops/clicks.
- The Release curve is adjustable from logarithmic to exponential, allowing for the perfect crossfade between your Bass and Kick.
- The length of time that your Bass is muted is adjustable via the 'Hold' parameter.
- The visualisation helps you identify your signals easily and makes dialling in settings an absolute breeze.
The reason why your Bass must be 100% muted to avoid clashing with your Kick has to do with the way audio signals are summed together. Even a small amount of Bass while your Kick transient hits will skew the summed waveform, resulting in a different Kick transient with every drum hit. This device ensures that your Kick's Transient remains consistent and allows you to smoothly transition from Kick to Bass so that they become one Instrument, resulting in maximum headroom and a stronger low-end!
See this video for further explanation
New Version 1.5 (July 2022) (Updates are always free!)
- Improved User Interface
- Added Scope functionality (Freeze, Zoom, Position, Scope Mode)
- Added Absolute Envelope mode (to see the combined envelope of both sounds)
- Improved Transient Detection algorithm (no more over triggering)
- Adaptive scaling of Curve parameter (to further avoid pops/clicks)
- Added Invert Signal parameter (to flip the polarity of the Bass)
* Note: This device does not work nested in drum racks, within drum racks. This is a current limitation of the Live API and Ableton & Cycling74 are working on an update.
...you can always add side-chain compression after this device to create more variation in the groove of your bass, but without using a tool like this, your just making life harder for yourself... Do yourself, and your music a favour, and grab GMaudio Ducker Now!
This device works in Live 10.1 or 11, Standard (with Max For Live add-on) or Suite. It requires Max 8.2.2 to operate as intended, which can be downloaded for free from Cycling74.
home page
Only registered users can see Download Links. Please
or login.