Baby Audio Crystalline v1.3.REGGED Fixed [WiN]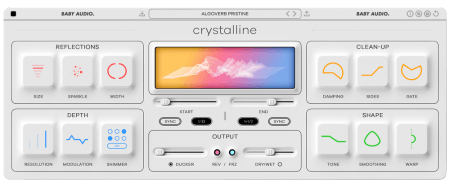 TeamCubeadooby | 19 March 2023 | 42 MB
Crystalline stands on the shoulders of 60 years of chasing 'the holy grail of DSP'. We've asked ourselves what the pioneers of the legendary digital reverbs would have done if they had the resources we have today – and then we've made exactly that plugin. With all the bells and whistles a modern engineer would need.
Make Space For Lushness
* Crystalline is a new, state-of-the-art, reverb plugin with a pristine and modern sound
* Gives you unprecedented creative control to shape your reflections
* Lets you sync reverb start and decay times to your song's tempo
* An evolution of classic 20th century studio reverbs – fully upgraded for today
BPM-Synced Start And End Times:
Crystalline lets you hard-sync the reverb attack and decay time to your DAW's tempo. This will generally result in cleaner mixes where the reflections are naturally in sync with the music.
Prefer the classic way? Just hit the "Sync/MS" switch and Crystalline lets you set pre-delay and decay times in milliseconds instead.
Info says:
In this iteration, TCD has fixed the developer
error preventing the 32 bit versions to initialize
(or run at all because of it.) To do so,
files were strictly gathered from
https://www.dll-files.com. If you choose to install
the 32-bit version(s), 3 files are dropped in
SysWOW32 (for x64 Windows) or System32 (for
x86 Windows.) They are as follows:

libcurl.dll 426 KB
libeay32.dll 1.17 MB
ssleay32.dll 278 KB

If you uninstall normally, these files will be deleted
during that process.

Uninstall old/install new works a treat.
This installer cleans up a bit, from the "old"
JBridge, regardless of anything.

There is not a standalone provided by the developer.

Should work on legit ProTools as the binaries are
completely untouched.

Special thanks to supplier and FLARE!
*Registration is never uninstalled,
even if you uninstall normally. For some reason should you
want it removed, you will have to do so manually.
home page
Only registered users can see Download Links. Please
or login.