Fabrizio Poce J74 StepSequencer64 J74 Patdrummer v1.5.12 [Max for Live]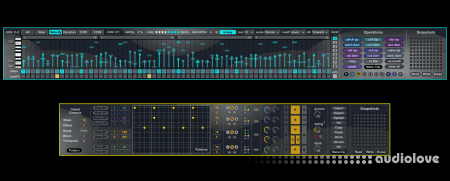 P2P | 20 March 2023 | 6 MB
The J74 StepSequencer64 & J74 PatDrummer plugin set is a collection of Max for Live (Ableton Live) devices for creative beat programming and improvisation.
The pack features a powerful step sequencer, the StepSequencer64 device, providing advanced features such as in-key programming, step envelope modulation, multiple parallel layers, real time (MIDI input) transposition, random (in-key) sequence generation and a programmable drum pattern-based box, the PatDrummer, able of on the fly patter editing-and-mixing, polyrhythmic sequencing, groove and random patterns. Both devices are included in the pack and integrate naturally within Ableton Live (e.g. they both support sequence export to MIDI clip, preset saving, automation, mappings).
StepSequencer64 - Overview
- MIDI Step Sequencer with up to 64 steps and dedicated Step ON/OFF activators
- Each step has control on Pitch, Velocity, Duration and of two Step-Envelopes (for parameter modulation of any two parameters anywhere in Ableton Live)
- Up to 8 sequence layers (alternative or played in parallel)
- Several Playback direction modes (foward, backward, random, up&down)
- Control of Loop Start / Loop End for poly-rhythmic sequence looping
- Uses MIDI input in real time to transpose the sequence (working this way like an arpeggiator)
- In-Key mode of operation: constrains programming to a selected musical scale (40 scales available).
- Per step pitch harmonic modifiers: random modifies the pitch of a step based on the selected musical scale (In-Key mode)
- All-steps modifiers for values like pitch/velocity/duration and for the two step-envelopes
- Random generation of sequence and values. Random pitch can be generation constrained to musical scale (In-Key mode).
- Possibility for shift of the sequence (up/down/left/right)
- Swing effect (to step timing), with 12 modes including MPC-like swing
- Section Copy/Paste (block of 16 steps) and all-steps Copy/Paste
- Own Preset saving (quick real-time recall)
- Export of the sequences to Ableton Live Session View standard MIDI clips
PatDrummer - Overview
- Fully programmable MIDI Drum Machine with patterns of 16 steps and independent drum triggers
- Each part has a loud and quite velocity trigger. Trigger MIDI note can be selected (several blocks of 16 pads in a drum rack can be mapped)
- Pattern memory (part slots): 12 Kick-pattern slots, 12 Snare-pattern slots, 24 Hats-pattern slots and 12 Percussion-pattern slots
- Pattern mixing (combination of patterns across the part slots), for up to 40,000 different combinations of drum patterns
- Pattern presets: save and recall on the fly your own patterns (own preset saving)
- Pattern export to Ableton Live Session View as native, standard MIDI clip
- Random generation of new combinations of patterns and/or per part random or fixed selection
- Periodic random pattern changes, for each part independently (e.g. useful for automatic fill-in)
- Global Step Number and Step Offset for syncopated playback (e.g. less than 16 or odd step number)
- Part Step Number and Step Offset for poly-rhythmic playback across the parts (e.g. snare on less steps than kick)
- Part pattern shift left/right (per part) to allow syncopation
- Part pattern random generation (creates a new random pattern for a part)
- Part copy/paste for editing/modifying of parts across slots
- Volumes Mixer for triggers (MIDI velocity)
- Solo/Mute Mixer for individual parts
- Groove/Dynamic effect (timing and velocity for humanized feel)
- Swing effect (to step timing), with 12 modes including MPC-like swing
Requirements, Specifications and DocumentationPlatform Requisites:
StepSequencer64 and PatDrummer are Ableton Live Max for Live devices for Live 10 and higher.
You must have a Max for Live licence to run them and they will run properly only in Live 10 or higher (older versions of Live are not supported).
Supported versions
- Ableton Live 10 and 11 (with embedded Max), Suite or Standard (with Max for Live license)
- Windows versions supported: 10
- Mac OS versions supported: 10.13 and higher
home page
Only registered users can see Download Links. Please
or login.