ElisabethHomeland GetOutOfMyWay [Max for Live]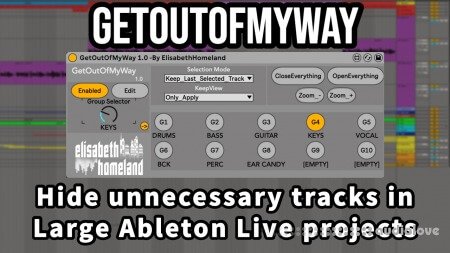 P2P | 27 March 2023 | 2 MB
GetOutOfMyWay is designed to help you manage large projects more efficiently.
It lets you define up to 10 view groups, each with unlimited keywords. When you select a group, any tracks that match its keywords are displayed, while others are hidden away. This makes it easy to work on individual sections of your project without being distracted by other tracks.
In addition, you have the ability to zoom in or out on either the selected view group or the entire project, and also you can create more complex View Groups with "Exception" and "Include" keywords.
The device also includes two additional devices, Keep Opened and Keep Collapsed, which help you further organize your project.
(Works in both Session View too, except the zoom functionality which only works in Arrangement view)
GetOutOfMyWay will save you time and help you focus on the things you really want.
home page
Only registered users can see Download Links. Please
or login.