Groove3 How to Make Virtual Guitars Sound More Real [TUTORiAL]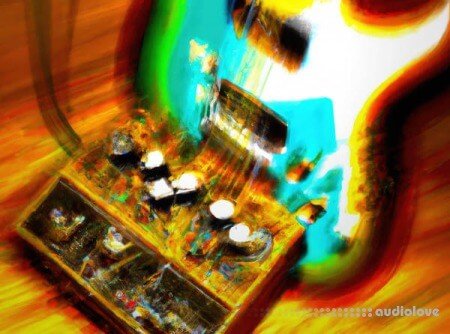 P2P | 31 March 2023 | 376 MB
If you're having issues with your virtual guitars sounding inauthentic or fake, you've come to right place. Veteran Groove3 instructor Gary Hiebner teaches you many effective strategies for adding realism and authenticity to virtual guitars so that they won't stick out like a red flag in an otherwise solid track. In these virtual guitar instructional videos you'll learn how to create legit chord voicings, improve strumming sounds by editing MIDI notes, adding randomization, improving the sound of arpeggios, and much more. This amp simulation video course is for those with a working familiarity of virtual guitar instruments but want to go deeper into sound designing with them.
Gary begins by demonstrating the sound of some virtual guitar tracks before and after applying the techniques shown in this course, so you'll know exactly what it is we're working to correct. Then, you'll learn about the anatomy of a real guitar and the techniques used to play it, both of which will help you in your quest to faithfully emulate it. Gary then details which virtual guitar instruments and libraries he'll be using in this course.
Next, explore the subject of chord voicings and see how to create authentic chords that are idiomatic to the guitar, which is critical in producing realistic results. You'll also discover to how to improve upon strummed chords by editing the timing of the MIDI notes and differentiating between downstrums and upstrums. Gary then demonstrates how adjusting the velocities of certain MIDI notes can have a large impact on the tone and feel of the guitar performance.
Other topics covered include adding randomization (for a more humanistic feel), using alternate strumming patterns for variety, doubling guitars (using different instruments for variation), making arpeggios sound more real (editing note lengths), setting the guitar tone (using the amp simulation and effects from the virtual instrument itself vs. using your own amp sim/effects in your DAW), combining electric and acoustic guitars (for a fuller sound), deciphering chord diagrams, embellishing rhythms, and much more!
Virtual guitar instruments have come a long way for sure, but they can still sound a bit stiff and robotic at times depending on the particular context. This course will help you be able to spot these instances and, more importantly, equip you with the knowledge to correct the issues and produce stellar-sounding guitar tracks that are indistinguishable from the real thing. See the individual amp simulation sound design video tutorial descriptions for more information on the many ways this can be accomplished. Don't settle for lifeless, stiff guitar tracks any more... watch "How to Make Virtual Guitars Sound More Real" today!
What You Will Learn:
How to spot problems with preset virtual guitar patterns
Guitar anatomy and technique
How to use authentic guitar voicings and produce realistic strumming patterns and arpeggios
Tips for getting great guitar tones and blending acoustic and electric guitars
How to employ various guitar techniques (bends, vibrato, slides, whammy bar, etc.) for a more nuanced, faithful emulation
and more!
home page
Only registered users can see Download Links. Please
or login.