Groove3 FabFilter Twin 3 Explained [TUTORiAL]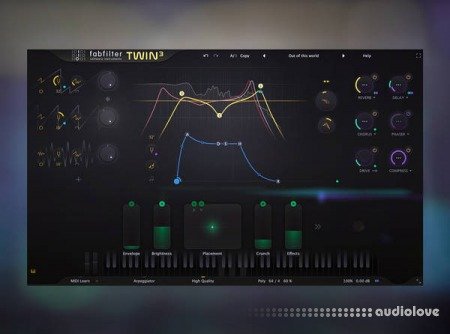 P2P | 31 March 2023 | 313 MB
In this in-depth FabFilter Twin 3 video course, virtual instrument expert Larry Holcombe walks you through the incredibly versatile and powerful Twin 3 virtual synthesizer from FabFilter. You'll learn how navigate its unique drag-and-drop routing process, sculpt the tones with their trademark filters available, use external MIDI controllers to adjust parameters, and much more! These videos are for new FabFilter Twin 3 users.
Larry begins by giving you a quick tour of the interface to familiarize you with the instrument's basic layout and discussing some things the Twin 3 has in common with other FabFilter plugins. Then it's on to the oscillators, where you'll learn how to select various waveforms and employ detuning, pulse width modulation, ring modulation, and portamento, among other things. This is followed by a look at the filter section and various types, slopes, and characters we have available as well as filter shortcuts and different filter routing possibilities.
Explore the FX section next, which includes six onboard effects (reverb, delay, chorus, phaser, drive, and compression, all of which can be modulated as well. And speaking of modulation, Larry will then show you how to quickly and easily apply it to any source with the convenient drag and drop approach found in Twin 3.
Many more topics follow, including the XLFO (for adding periodic modulation to various parameters), envelope generator, envelope follower, MIDI source (employing MIDI controllers to affect different synth parameters), XY controller (allowing for two simultaneous modulation sources), and more! Larry closes out the course by building two sounds from scratch - bass and choral pad - so you can see all these concepts put in action.
FabFilter's Twin 3 is an awesome instrument with deep functionality, but with this Twin 3 video course, you'll learn all the essentials quickly with succinct explanations and helpful musical demonstrations. Check out the individual FabFilter Twin 3 video tutorial descriptions for more information and for ideas on how you can easily integrate this instrument into your workflow right away. Dial in that perfect sound for your next track... watch "FabFilter Twin 3 Explained®" today!
What You Will Learn:
Layout of the interface and how to select oscillator parameters
How to apply and shape any of the four filters and six effects available
How to apply myriad forms of modulation with the intuitive drag and drag approach
How to generate various rhythms and exciting patterns with the powerful arpeggiator
and much more
home page
Only registered users can see Download Links. Please
or login.