Groove3 Arturia Augmented GRAND PIANO Explained [TUTORiAL]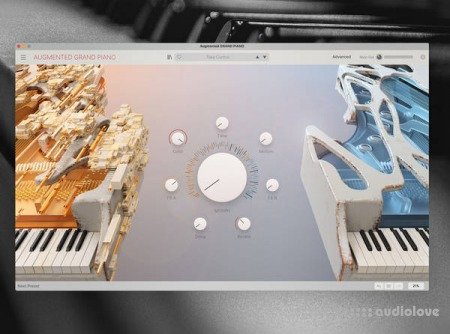 P2P | 14 April 2023 | 223 MB
Join VI guru Tyler Coffin for an extensive look at the features and functions of Arturia's exciting virtual instrument, Augmented GRAND PIANO! A unique hybrid instrument that blends beautifully sampled grand piano sounds with a powerful synth engine, Augmented GRAND PIANO is perfect for creating otherworldly textures for film, TV, video games, or any track in need of some serious ear candy. In this Augmented GRAND PIANO video tutorial, Tyler will familiarize you with the interface and structure of the plugin, clearly explain each component, and demonstrate ways to create many different sonic possibilities along the way. These videos are for new users of Augmented GRAND PIANO.
Tyler begins with a brief overview of Augmented GRAND PIANO, getting you up to speed with the interface and layout of the plugin so you'll be familiar with the location of all the features that will be covered in the course. Then he begins covering the two layers (each of which contains two engines), beginning with the Sampler, which includes stunning samples of a grand piano in countless configurations: from pure, unaffected beauty to highly prepared zaniness, and everything in between!
Next, explore the Synth layer, which features analog, granular, harmonic, and wavetable synthesis, and learn how the two layers can be blended together to create absolutely inimitable tones from the far reaches of your imagination. Tyler also demonstrates the Modulation section of Augmented GRAND PIANO and shows you how to link numerous modulation sources to various destinations.
Over the remainder of the course, you'll learn about many more components, including the Arpeggiator (for creating exciting rhythmic figures), effects (over 14 of them!), macros (for quick changes of several parameters at once), browser (preset management, etc.), and more! Tyler finishes the course with a couple of sound design tutorials focusing on a more natural example as well as a more experimental one.
Don't miss this opportunity to quickly and easily get comfortable with this incredibly creative tool. With so much sonic potential at your fingertips, you'll find yourself reaching for Augmented GRAND PIANO again and again in a variety of production needs. Check out the individual Augmented GRAND PIANO video descriptions for more information on the contents of each. A new frontier of sound design awaits... watch "Augmented GRAND PIANO Explained®" now!
home page
Only registered users can see Download Links. Please
or login.