AIR Music Technology AIR Ether v1.0.0 [WiN]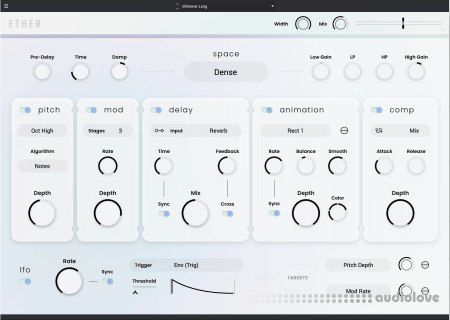 Team R2R | 25 April 2023 | 14.2 MB
Reverb just got a whole lot wilder
A reverb like no other, Ether takes your sound to new dimensions with its unparalleled processing capabilities. This isn't just another multi-effects processor - Ether is a creative powerhouse that allows you to shape and manipulate your sound like never before.
At its core, Ether provides eight distinct space settings, pre-delay, reverb time, and damp controls. But what sets it apart is its post-reverb shaping capabilities. With an array of five fully bypassable modules, you'll transform even the simplest sound into something unique.
FEATURES
Comprehensive Reverb section with…
Eight distinct space settings
Pre-delay, reverb time and damp controls
Post-reverb shaping with EQ & filter section
5 further, fully bypassable modules including…
Pitch shifting algorithm with variety of available intervals, plus algorithm selector to suit your source material.
Pitch modulation section with shape, depth and rate controls
Delay section with BPM sync, cross-feed for bouncing delay FX and a range of input routing options
Animation section
BPM syncable
Wide range of animation shapes
Rate, tonal balance, color and smoothing controls
Compressor
Three input routing options
Attack and release time constants
LFO/Envelope section
Four unique modulation modes
BPM syncable
Retrigger threshold control with metering
Two assignable destinations with independent depth and invert controls, from a range of options.
Wide variety of logically categorised presets.
home page
Only registered users can see Download Links. Please
or login.