Steinberg HALion 6 v6.4.20.139 + Sound Content / v6.4.0 [WiN, MacOSX]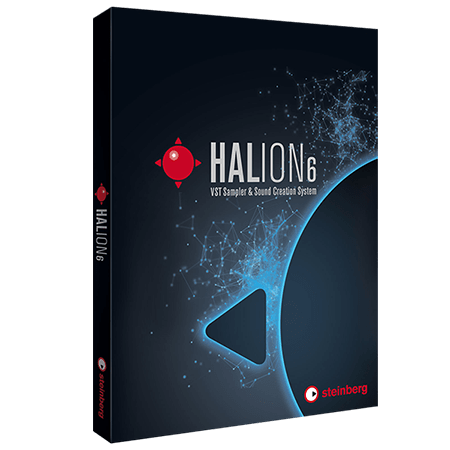 WiN: P2P | 03 May 2021 | 29.08 GB
MAC: P2P | 05 September 2020 | x64 | 942.12 MB
HALion is the most comprehensive virtual sampling and sound design system available today and excels the present creative process for producers and sound designers in all areas.
It covers the complete creative workflow from recording and sample editing to programming advanced synthesis and modulation setups. With HALion, create customized user interfaces and export ready-to-release instrument libraries with every step streamlined to the greatest extent.
The powerful set of oscillators for seamless sample playback as well as the next-generation synthesis make HALion a versatile creative tool in simply every situation. Its broad library includes thousands of high-class and deep-sampled instruments and cutting-edge synthesizer sounds for all kinds of musical genres.
Key Features
State-of-the-art sampler and sound creation system tailored to the demands of professionals
Advanced library creation tools including Macro Page Designer, drag-and-drop Library Creator and HALion scripting
Powerful multi-timbral audio engine with disk-streaming sample playback, tone-wheel organ simulator and high-end virtual analog, granular and wavetable synthesis
AudioWarp for cutting-edge time-stretching and pitch-shifting
FlexPhraser module drives beats, arpeggios and complex tonal phrases
Outstanding library including over 3,400 synthesized sounds and breathtakingly authentic acoustic instruments
Flexible user interface with multi-monitor support allowing you to customize and save your own windows and screen sets
Wide range of high-end audio effects, including REVerence convolution reverb, VST Amp simulation and many more
Up to 192 kHz, 32 stereo outputs and 6-channel surround support
Cross-platform compatibility: Windows (VST 3, VST 2, AAX) and macOS (VST 3, AU, AAX) plug-in and standalone support
HALion v6.4.20 Changelog

HAL-4512 Feature Macro Page Designer: Added decor controls which allow to draw vector-based rectangles. Decors can be customized with rounded corners (Radius), line width and color and fill style (No, Solid, Linear Gradient, Redial Gradient)
HAL-4357 Sample Export Added "Keep MediaBay Tags" option in Export Sample dialog. When active MediaBay tags on samples are not removed during export.
HAL-4464

General Fixed issue where automated script parameters were not correctly processed for "Render in Place" and "Audio Mixdown"
HALLY-8129

General Fixed issue where Bar & Beats could not be tagged in the MediaBay
HALLY-8176 General Fixed possible hanging notes when selecting or moving MIDI notes in Cubase key editor
HALLY-8220

General General: Fixed possible crash when changing the trigger mode for played notes
HALLY-8470

General Fixed unwanted undo operations in host, when trying to undo HALion changes
HALLY-8501

General Fixed broken switching of expressions via mouse-click in expression list
HALLY-8513

OSX Fixed broken CPU Max setting, which was not working in prefetch-mode
HALLY-8529

OSX Fixed possible load issue, when loading presets with large number of samples
HALLY-4591

Macro Page Designer

Fixed issue with 2D and 3D wavetable displays not working when moved into a template
HALLY-8140

Macro Page Designer

Fixed word wraps issues for certain fonts
HALLY-8417

Macro Page Designer

Fixed missing scroll bar and clear message button in message output
HALLY-8450

Macro Page Designer

Fixed wrong state of "checkable" option of menu controls after loading

HALLY-8489

Macro Page Designer

Fixed issue where wavetable displays lost their connection with changing group scopes
HALLY-8499 Macro Page Designer Fixed issue where level meters where displayed on hidden disable views
HALLY-2371 HALion Sonic Fixed slot selection after loading projects
HALLY-8004 HALion Sonic Fixed problem, where the FlexPhraser was internally deactivated after loading certain presets
The instruction is given for users who do not have HALion and Antitrial installed in the system.
You will need a mailbox, which will subsequently receive an activation code for Trial version of Halion 6
You can get the activation code at this link
We save the code and proceed to the installation of Halion 6
1. Run and install Halion_Application_6.3_Installer_win.exe. During Halion installation, the eLicenser Control Center will also be installed on the system.
Be sure to add the C: \ Program Files (x86) \ eLicenser \ POS folder to the exceptions of your antivirus, especially those who use Windows 10 and Windows Defender.
2. After the Halion installation is complete, start and install eLicenser Antitrial beta-6.exe.
3. On the last window to install Antitrial, click Finish. The eLicenser Control Center launches, into which you will need to insert the trial activation code for Halion 6.
pic
4. After successfully downloading the license, close the eLicenser Control Center and go to the downloaded Content HALion 6 folder.
We double-click on any of the files in this folder. The Steinberg Library Manager starts up:
pic
In this window, you can choose the path where to move the content or add it to their current location.
After a window should appear on the successful registration of libraries
Creating a New Soft License Serial Number
We put Antitrial into Disable mode using eLicenser Antitrial Switch.exe, the folder C: \ ProgramData \ Syncrosoft should be empty
Run the command line as administrator and paste the code:
"C: \ Program Files (x86) \ eLicenser \ POS \ SYNSOPOS.exe" / regsel
Press INTER
A SeLicenser.sel file should be created along the path C: \ ProgramData \ Syncrosoft
home page
Only registered users can see Download Links. Please
or login.