Samples / Additional Libraries / MiDi
SoundOracle Sound Kits Golden Era Drums Ableton Edition (Ableton Rack) [WAV, MiDi, Ableton Live]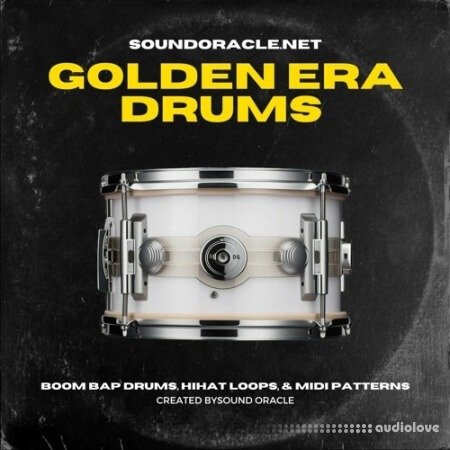 FANTASTiC | 01 August 2023 | 60 MB
The Perfect Boom Bap Drum Solution
Craft Authentic Boom Bap: Discover Simplicity, Versatility, and Endless Beat Making Possibilities With Golden Era Drums.
Unlock the authentic sound of 'boom bap hip hop' with Golden Era Drums. Available in two variations - the Standard Edition and the Ableton Edition - this 'drum sample pack' offers over 200 unique drum samples, loops, and midi patterns, meticulously crafted for a gritty, raw sound.
The Ableton Edition is straight "secret sauce" for any Ableton user. It includes an intuitive 'Ableton drum rack' that simplifies your workflow, allowing you to create unique drum combinations, save presets, and generate random drum kits.
Golden Era Drums is more than just a 'drum sample pack'. It's a solution to creative blocks and a time-saver in your search for the perfect sound.
Experience the Golden Era of hip hop with Golden Era Drums. It's your key to producing high-quality, authentic 'boom bap tracks'. Sign up for our waiting list today.
Dive into the Golden Era of hip hop with the Ableton Edition of Golden Era Drums. With 235 high-quality drum samples at your fingertips, you can select, mix, and match to create your unique sound, leading to over two billion possible kit combinations. The intuitive interface allows for seamless integration with Ableton Live, ensuring a smooth workflow. Plus, with the ability to effortlessly save and recall your unique drum combinations, and a random generator to spark your creativity, crafting raw, gritty beats has never been easier.
Explore the Golden Era Drums Rack Features
Automatically Create Endless Drum Combinations
Unleash your creativity with the Random Button. With a single click, generate one of over 2 billion unique drum kit combinations. It's like discovering a new drum kit every time. Plus, you can save your favorite random kits as user presets for future use. The possibilities are virtually endless.
Ready-to-Use Presets
Jumpstart your beat-making process with our curated presets. Each one is a unique combination of drum sounds, giving you instant access to a variety of boom bap hip hop beats. Save time and stay inspired with Golden Era Drums. You also have the ability to save your own user presets!
Dial In the Perfect Sounds
Dial in your perfect drum kit with Macro Knobs 1-6. Select from individual drum sounds to create unique combinations and kits. With Golden Era Drums, you're the architect of your sound.
Mix with Precision
Balance your drum sounds to perfection with Macro Knobs 9-14. Adjust the volume of individual drum sounds to create a balanced, cohesive drum kit. Golden Era Drums puts the power of a professional mix in your hands.
home page
Only registered users can see Download Links. Please
or login.