playcreativepiano Modern Tonal Harmony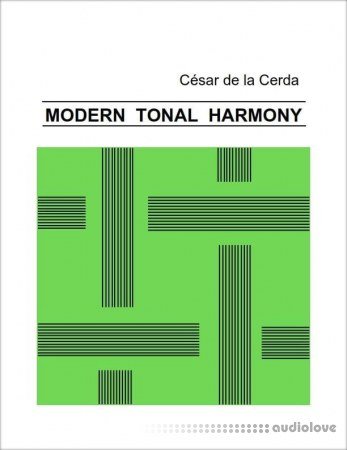 P2P | 05 June 2017 | 118 MB
The book MODERN TONAL HARMONY is an excellent resource for any student or professional musician that want to learn modern harmony in an easy and modern context. All musicians will find simple and innovative techniques to develop their creativity in modern harmony.
THE CHORD
Chord Structure; Classification of Chords into Qualities; The Sixth Chord.
TONALITY
The Seven Chords of Tonality; Chord Alterations.
HARMONIZING MELODIES
The Three Basic Progressions; Progression in a Circle of Fifths.
THE DIATONIC AND CHROMATIC PROGRESSIONS
The Diatonic Progressions; The Chromatic Progression; Alternative Use of Progression; Harmonic Analysis.
PROBLEMS IN PRACTICING HARMONY
Harmonic Synthesis; Method; Errors and "Weak" Harmonizations.
DYNAMIC INTERACTION OF THE TWO POLES OF THE KEY
The Bipolar Relationship I-V; Replacement of Chord VI in the Progression I VI II V; Importance of the Tonal Center.
EXPRESSIVE ALTERATIONS OF THE CHORDS
Suspension of the Minor Chord; Variants of the Dominant Chord.
SUSTITUTION OF THE DOMINANT CHORDREPLACEMENT OF THE DOMINANT CHORD
Exceptional Resolutions in the I Chord; Dominant Chord without Preparation.
STATIONARY CHORDS AND PARALLEL CHORDSSYNONYMOUS CHORDS AND INVERSIONSREHARMONIZING HARMONIZED MELODIES
Conversion; Correction.
MINOR KEYS
Relative Keys; The Triple Minor Scale; The Seven Chords of a Minor Key.
MODULATION
Tonal Changes in the Course of a Melody; Deliberete Tonal Changes.
CHORD EXTENSIONS
Interval Analysis; Basic Structure and Extensions; Limitations in the Use of the Extensions.
home page
Only registered users can see Download Links. Please
or login.