ASM Hydrasynth Classic Sounds by Mr. Card [Synth Presets]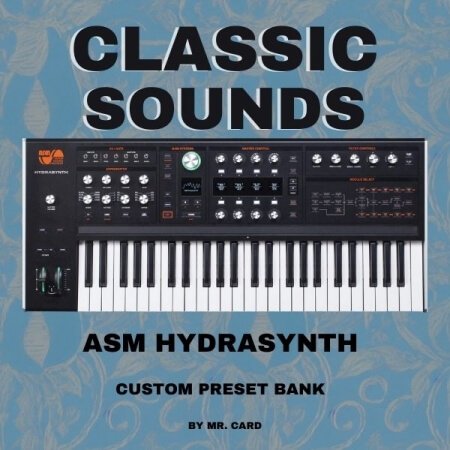 P2P | 16 August 2023 | 25 KB
I've always loved classic sounds like Fender Rhodes Mark 1, Wurlizter 200A, Oberheim OB-Xa, Roland Juno 60, Sequential Prophet, Moog Minimoog or Upright Piano. I decided to recreate them with one of my favorite synthesizers.
➢ Number of sounds: 65
➢ Format: ASM Hydrasynth (.hydra)
➢ App: Hydrasynth Manager
➢ Size: less than 1 MB
➢ BONUS: Valhalla Supermassive (7 presets)
All presets are in .hydra format and are compatible with any synthesizer from the ASM Hydrasynth family, i.e.: ASM Hydrasynth Explorer, ASM Hydrasynth Deluxe, ASM Hydrasynth Desktop, ASM Hydrasynth Keyboard.
The soundset complements my few presets for the free genius Valhalla Supermassive processor, which, combined with the ASM Hydrasynth, creates an amazing, massive space.
home page
Only registered users can see Download Links. Please
or login.