Louder Than Liftoff SILVER BULLET mk2 v1.0.5 [WiN]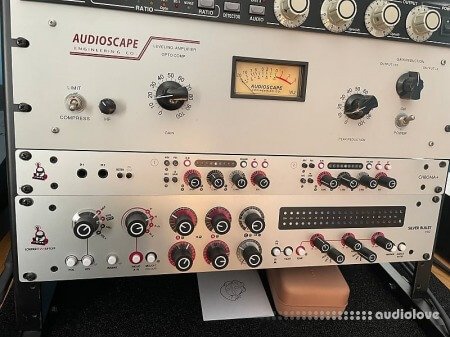 TeamCubeadooby | 25 August 2023 | 43 MB
Cascading MOJO
Apply a unique combination of in-the-box effects to shape your tracks, busses, and stereo mixdowns. Open up your mixes to a new level of character, normally only found in studios with massive analog recording consoles and mountains of outboard gear. Process your 2-bus, groups, or tracks through cascading combinations of three digital MOJO Amps, meticulously modeled from the circuits of the orginal SILVER BULLET mk2 hardware:
A: American console
N: British console
C: Custom MOJO / Colour Modules
Tone shaping
SILVER BULLET mk2's 3-band Baxandall EQ has a Pultec-inspired low end and a smooth and expensive sounding top end that stands in a class with the most renowned mastering EQs, featuring the beloved AIR circuit from the original hardware with its own dedicated control.
The rough with the smooth
Tighten up the extreme bottom end with the TIGHT filter. The slightly resonant and tape-like 25 Hz setting excels on mixes, while the 50 Hz filter is optimized for tracking individual instruments. Smooth out digital top end with the silky VINTAGE mode inspired by legendary 1970's British consoles.
Stereo image enhancement
ASPECT RATIO musically enhances the stereo width, height, and clarity of your mix. This isn't one of those cheap sounding, phasey widening effects that leaves you wondering if you are messing up your soundstage or balance.
ASPECT RATIO delivers masterful results at the touch of a single button. No fussy tweaking or second guessing required. LTL took the time to perfect this circuit, so you can get on with perfecting your mix.
Five custom Colour modules
Just like the hardware, this plugin has an expansion slot for tonal exploration: Colour is a modular platform for creating custom analog signal chains. Choose from five different virtual Colour modules including the Hitmaker 4000 modules from the original hardware plus NEW MOJO Modules from LTL's friends Unfiltered Audio - exclusive to the plugin version. Expect additional modules in the future.
-Hitmaker 4000: 1980's VCA console saturation–standard issue in the hardware
-Bitmaker 1200: 12-bit, sample rate reduced version of Hitmaker 4000 with brick wall input filtering and aliasing artifacts inspired by a legendary late-80's sampling drum machine.
-Vinyl Saturation: produces warm vinyl saturation based on the Unfiltered Audio plugin Needlepoint.
-Helical Scan: features VHS tape inspired warble algorithms based on the Unfiltered Audio plugin LO-FI-AF.
-VHS AF: a serial combination of the Vinyl Saturation and Helical Scan warble algorithms that increase saturation intensity as C-DRV is turned up and increase warble depth as C-MIX is turned up.
What is analog?
Louder Than Liftoff's mission is to embody the true essence of analog. This means including all the variations, idiosyncrasies, imperfections, and even the occasional delightful surprise we adore in real hardware. LTL meticulously modeled every analog circuit down to the component level with their new patent-pending technology: Dyna Realism™.
DYNA REALISM™
To explore what it means to be analog, Louder Than Liftoff created Dyna Realism™, this remarkable patent-pending analog realism generator harnesses LTL's innovative Virtual Parts Bin and Serial Number systems, meticulously constructing unique static and dynamic models of analog circuits across a broad spectrum of variation and realism.
That analog sound with DYNA REALISM™
Through a simple knob adjustment, each setting unveils more intense variations within and between channels. This new technology breathes life into static emulations, surpassing their inherent limitations to deliver hyper-real dynamic emulations where the circuits feel alive.
Custom serials that deliver analog uniqueness
When you instantiate SILVER BULLET mk2, you receive a unique "built-to-order" version of the digitally modeled analog circuit, associated to your license. The six-digit serial number on the rear panel is not just for graphical authenticity: it's an integral part of the plugin's Dyna Realism™ modes. Just like a real hardware unit, each license of the SILVER BULLET mk2 is given a unique serial number that is distinct in subtle, entirely analog ways. Enter any string of numbers to customize your build.
Push beyond the hardware with circuit bending
SILVER BULLET mk2 offers two distinctive circuit bending options: BEND 1 and BEND 2. Each option shorts out the power rails at different points of the signal chain, to create distorted and broken textures. The A, N, and C MOJO amp each exhibit unique behaviors based on the CIRCUIT BEND setting that you've selected. This Circuit bending feature is a fun way of coaxing unintended yet inspiring sounds out of your gear, virtually hacking the digital circuits without the risk of blowing up the hardware unit.
home page
Only registered users can see Download Links. Please
or login.