Teletone Audio Golden Age Grand [KONTAKT]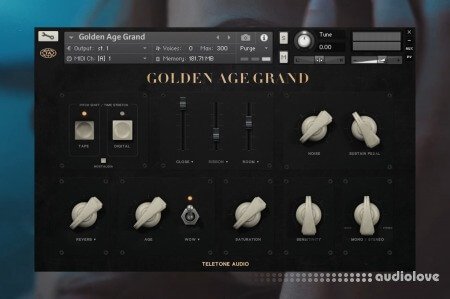 P2P | 25 August 2023 | 6.46 GB
Your new go-to piano library.
Golden Age Grand evokes the memory of the solo piano renaissance of the 1950's and 60's. Warm, rich, and impressionistic, the sound can be contextualized in both modernity and classicism.
Golden Age Grand is a grand piano virtual instrument plug-in for Native Instruments' free Kontakt Player, compatible with most major DAWs (Ableton Live, Logic and Garage Band, ProTools, Steinberg Cubase and much more.).
1. High-fidelity. Pre-1975.
The default sound of the Golden Age Grand is unique and characterful in and of itself. The sound of the beautifully aged grand piano through vintage microphones, vintage pre-amps, and a custom vintage console bring the sound of the golden age directly to your fingertips.
2. To Tape. Then Slowed.
The TAPE button loads a second set of samples which were recorded to 2" analog tape. But we didn't stop there, in addition we slowed the played back to 27ips giving the piano an organic and natural slowed sound.
3. To Digital. Then Stretched.
The DIGITAL button engages a third sample set, where the samples have been digitally time-streteched and pitch shifted down a minor third. This will give you the sound of Postcard Piano but with the robust resonance of a grand piano!
In addition to the default Golden Age Grand patch, there are 4 categories of presets…
Headphones - Designed with the lofi hip-hop, soul, and r&b artist in mind.
Performances - Meticulously designed patches to match the sound of specific performances from classical pianists in the 60's and 70's.
Recordings - Inspired by pop records from the 70's to today's top 40.
Scores - These patches were created with taste inspired by both classic and modern film scores.
3 Mic Positions.
Close Mics - A stereo pair of Neumann U67's placed intimately close to give a clear and upfront sound.
Ribbon Mics - Positioned at the player's perspective, the sound of the AEA R88 stereo ribbon mic has a very warm and characterful sound.
Room Mics - A vintage pair of Neumann KM86's were placed at a distance in the studio to capture a widescreen sound of the piano.
Engage Nostalgia.
In the spirit of some of our favorite analog gear where you might press multiple buttons to get an hidden effect, or a small nondescript button to add magic; we've included the Nostalgia button.
"What's it do?" you may ask? Well… let's just say it takes the piano further into reverie. Try it out! We think you'll like it.
A storied piano.
The Yamaha grand piano that we sampled for the Golden Age Grand has a history as rich as the Nashville music scene itself. It spent years at the legendary Grand Ole Opry before officially becoming a part of the Johnny Cash TV show. It was used in live performances by Ray Charles, Neil Young, and countless others.
home page
Only registered users can see Download Links. Please
or login.