u-he Diva v1.4.6 [WiN, MacOSX]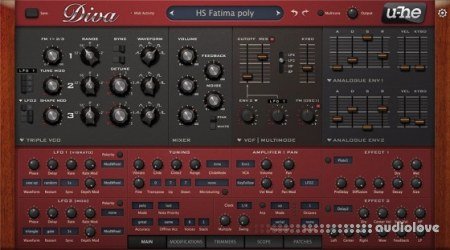 Team R2R | 12 September 2023 | 160.2 MB
DIVA - Dinosaur Impersonating Virtual Analogue Synthesizer. The oscillators, filters and envelopes closely model components found in some of the great monophonic and polyphonic synthesizers of yesteryear. Modules can be mixed and matched so you can build hybrids, but what sets DIVA apart is the sheer authenticity of the analogue sound. This comes at the cost of quite a high CPU-hit, but we think it was worth it: Diva is the first native software synth that applies methods from industrial circuit simulators (e.g. PSpice) in realtime. The behaviour of zero-delay-feedback filters when pushed to the limit clearly demonstrates the advantages of this groundbreaking approach.
authentic, unrivaled analogue sound
up to 40% less CPU-hit than version 1.0
multithreading support for modern CPUs - more polyphony, less overload
even bigger library of gorgeously organic presets
resizable editor window, alternative skins available shortly
the essence of 7 or 8 vintage synths for about 1% of the cost
...and so much more!
improvements:
Completely rewritten VST3 implementation
New 'move to trash' option in preset browser
Windows - GUI performance improvements
GUI - undo/redo arrows improved for better visibility
Pitch Bend range now +-48
Pressure now reacts to MIDI parameter smoothing preference
Diva 1.4.6 (revision 15017)

Improvements:

Support for CLAP
Support for native Silicon AAX
Support for next generation of NI NKS
Support for latest macOS Ventura/Sonoma
Updated VST3 SDK to 3.7.8
Improved GUI performance
Improved dialog handling
Ctrl A/B "Set as Default" option added to MIDI Table page
Browser: New option to show/hide folders in the context menu
Browser: Saving search results now works via drag&drop
Browser: Description and usage fields now scroll during text input in preset save dialog
Browser: Folders can now be drag&dropped onto tag smart folders
Improved parameter automation in Pro Tools
Improved latency compensation for MIDI event scheduling
Registration dialog now purges unsupported characters (e.g. accidental spaces)
Linux: Support for MTS-ESP microtuning
Windows installer now comes with an uninstaller
Windows installer now remembers last used options
Windows installer blocks installation to "C:\ProgramData" location
CLAP: Optionally display module names next to parameter names
CLAP: Support for note expression (micro-pitch, timbre, pressure, pan, gain)

Fixed Bugs:

Fixed: Crash when holding sustain pedal while switching between mono and poly presets
Fixed: Offline accuracy was always using "same" setting (VST3 only)
Fixed: Aborted preset save operation could lead to wrong meta data in inspector
Fixed: Using "duplicate" option in browser could crash if permissions missing
Fixed: VST3 synth plugin falsely reported inputs to host
Fixed: Glide time was longer when using small audio buffer size
Fixed: Renoise no longer needs "enable keyboard" option for menus to work
Fixed: Plugin focus no longer needed for dropdown menus to work (Mac only)
Fixed: Problem when loading init preset immediately after loading plugin (Mac only)
Fixed: Plugin stayed mono when using "Mono > Stereo" option in Logic
Fixed: Problem with host automation of some parameters (Pro Tools only)
Fixed: GUI glitch when switching to smaller GUI size (Pro Tools only)
Fixed: Problem automating parameters with identical names (Pro Tools only)
Fixed: Preset search input field did not receive mouse input (Pro Tools only)
Fixed: Stuck notes when using computer keyboard to play in FL Studio on Mac (VST3 only)
Fixed: Scroll wheel not working on second display under some conditions (Windows only)
Fixed: Installer now scaled correctly on high-resolution displays (Windows only)
Fixed: Preset overwrite dialog was not showing up (Linux only)
Fixed: Default Author was set to preset name (Linux only)
Fixed: Auto versioning feature wasn't working (Linux only)
Fixed: Right-click preset selection frame wasn't disappearing (Linux only)
Fixed: Input field was empty when editing preset search result (Linux only)
Fixed: Double-click on menus could lead to crash (Linux only)
Fixed: Dialogs always opened at left edge of the screen (Linux only)
Fixed: Dialogs could be opened multiple times (Linux only)
CLAP: No more stuck notes when host playback is started repeatedly
CLAP: Audio buffer now cleared on host reset
CLAP: Improved reporting of latency changes
Lots of small fixes and improvements

Special Notes:

AAX and CLAP are 64-bit only
home page
Only registered users can see Download Links. Please
or login.