WA Production SphereComp v1.5.0 / v1.0.0 [WiN, MacOSX]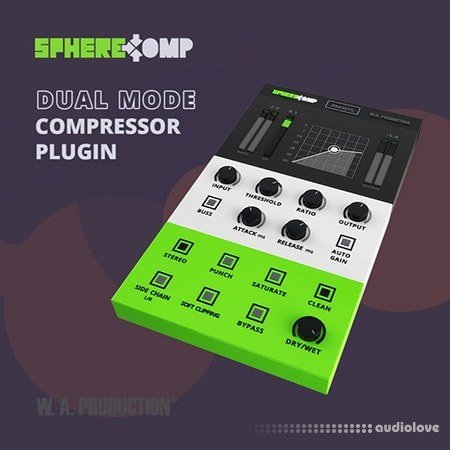 WiN: Team RET | 17 August 2021 | 8.56 MB
WiN/MAC: SYNTHiC4TE | 19 June 2018 | 6 MB
Sphere Comp - A dual mode compressor plugin
W. A. Production has created the perfect way to approach and achieve proper compression. All producers know compression can either be an award-winning tool if used properly, or it can totally destroy your mix. Audio students are introduced to compression and most are left confused or scared to death of it. SphereComp is capable of catering to the seasoned pro and the beginner.
To get the same results you get with SphereComp you would have to spend thousands of dollars in high end rack gear, invest time getting acquainted, making adjustments over and over until you get the result you want. Not to mention installation and routing your patch bay. Breathe a sigh of relief. Don't dread compression. Embrace it.
Input – Control the input gain by +/- 15dB.
Threshold – Threshold (dB), when the signal level exceeds the threshold the compressor goes into action.
Ratio – (ratio/1) As an example, a 3:1 ratio means that for every 3dB the input signal exceeds the threshold, only 1dB will be allowed to pass by the compressor.
Output – Control the output gain by +/- 15dB.
Team RET Note:
(v1.5.0)
2 new and old license system by WA has been keygend this time. One by RET and
one by R2R. Enjoy!

Old System : WebAuth. AES128 is used for first 16 bytes. The authorization
file can be used in another computer because there are no
machine id verification.
New System : WebAuth. BASE64 and BlowFish are used. It has machine id,
congrats! But there are no product code. One auth file can be
used for other products (as far as machine id is same!).
home page
Only registered users can see Download Links. Please
or login.