iZotope Alloy 2 v2.04 [WiN, MacOSX]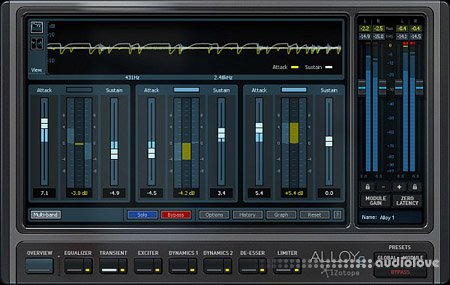 WiN: Team R2R | 02 May 2017 | v2.04 | 41.4 MB
MacOSX: P2P | 18 August 2016 | v2.04 | 78 MB
Alloy 2 by IZotope is a six high quality mixing tools in one integrated plug-in: Equalizer, Limiter, Transient Shaper, Dynamics, De-Esser and Exciter. It provides key sound shaping effects for your tracks and gives you futuristic tools, fast results and most importantly, fantastic sound.
Version 2 adds no new modules, but improves those that were already there, as well as adding a number of global enhancements. The interface is larger and more friendly, and now sports a useful Overview Panel which shows the most important controls and visualisations for all modules simultaneously. There are 250 new presets for the plug-in as a whole, and it's now possible to save and load presets for individual modules too. All presets were designed to suit a broad range of mixing tasks and each one equally valuable as both a starting point or an endpoint.
You can hear results immediately with zero latency performance. Far more than just a traditional channel strip, Alloy 2, which you can download on audiolove.me, is a modern approach to mixing processing, delivering endless flexibility for those who want it.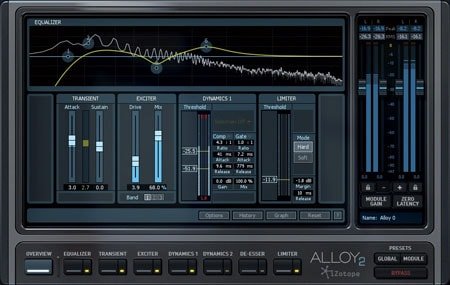 Equalizer
Whether you're taming unwanted frequencies or emphasizing your favorites, Alloy's 8-band EQ combines exceptional sonic quality with precise control. Choose from a broad range of classic and surgical filter types to sculpt your sound, then refine your settings easily within a spacious and intuitive interface. And for extra guidance, Alloy's large spectrum overlay provides the best visual feedback of any EQ available.
Limiter
Limiter increases loudness on your tracks while controlling peak levels, ensuring that your audio doesn't clip or distort when tracking or mixing.
Exciter
Bring brilliance, warmth, and crunch to your mix with fully-redesigned harmonic Exciter in Alloy2. Equally primed to go bold or go subtle, the revamped Exciter can add harmonic flavor to a wide variety of material, including vocals, strings, guitars, drums and more. Emulate the subtle warmth of tube preamps, the aggressive grit of tape, the screech of a distortion, and anywhere in between.
Transient Shaper
You can accentuate the attack of a mix element or blend it back into the mix with Alloy's simple yet mighty Transient Shaper. Perfect for upping the smash factor on drums and other percussive sounds, the Transient Shaper can also fine-tune the character of hammered or plucked instruments.
De-Esser
De-Esser in Alloy 2 lets you zero in on sibilant frequencies with a simple-to-use spectrum analyzer. It's perfect for transparently reining in cymbals, vocals and other high frequency problem instruments.
Dynamics
Whether you're smoothing out vocals and bass or slamming your drum bus hard, the Dynamics module helps balance your mix, combining characteristics of analog and digital compressors.The Dynamics sections also now feature a high- and low-pass filter which can be applied either just to the side-chain or to the incoming audio.
home page
Only registered users can see Download Links. Please
or login.